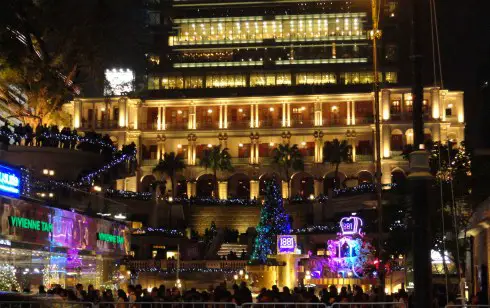 1881 Heritage is a high end shopping mall found in TsimShaTsui, Kowloon. Inside these buildings you'll find a mall, exhibition hall, and a heritage hotel. The shops found inside the mall sell expensive brand name products.
From the early 1800s until 1996, the buildings that are now referred to as 1881 Heritage were the Headquarters for the Hong Kong Marine Police. In 1994 these buildings were declared monuments and are now recognized as some of the oldest and significant buildings in Hong Kong.
When you arrive at 1881 Heritage, you'll notice just how different these buildings are compared to most of the architecture in Hong Kong. It's located close to the Hong Kong Peninsula Hotel and the Tsim Sha Tsui Clock Tower, which makes its old Victorian Style Architecture blend in to its surroundings nicely. This is a part of the city that has stood the test of time and kept a lot of buildings from back in the late 1800s and early 1900s. This south western end of Tsim Sha Tsui is very interesting to visit if you're interested in old architecture.

Most travellers who visit 1881 Heritage and expect to buy something will definitely be in for a shock. The stores in this mall are definitely high end stores that sell expensive jewellery, and high fashion clothing. Your jaw may drop when you see the prices on these items, convert the price into US dollars and find out it's over $1000 USD!
A lot of the people who shop here are cross-border shopping from China and have lots of money to spend. I got the feeling that the prices of these luxury items are more than they should be. Stores can charge more because the people who come from China are willing to pay whatever price is on the item. These people have limited time in Hong Kong (usually 2 days or less) and they don't have time to shop around. So they just pay whatever price is on the tag, even if the price was raised 20% since the last time they came. I saw some people walking around with 5 or 6 shopping bags from expensive stores in their hand, all with something inside them.
One of the best times to visit is during a holiday, especially Christmas time. Lots of elegant Christmas decorations are on display inside and outside. During Christmas time there are decorated carriages (carriages similar to Cinderella style), Christmas trees, wreaths, and lots of other festive decorations to see.
A Cinderella style carriage on display during Christmas time
Nearby attractions include the Victoria Harbour, Avenue of the Stars, Tsim Sha Tsui Clock Tower, and the Star Ferry. You can also find lots more high end shopping at Harbour City and on the streets of Tsim Sha Tsui. There are also a lot of expensive, high end hotels nearby including the Hong Kong Peninsula Hotel and the Marco Polo Hotel Hong Kong. If you enjoy museums you can visit the nearby Hong Kong Cultural Centre, Hong Kong Space Museum, and the Hong Kong Museum of Art.
If you don't have that much money to be spending at any of these stores, it may still be worth walking through the buildings at 1881 Heritage, check out the heritage hotel, exhibition hall and the mall. You can enjoy an old piece of Hong Kong's history for yourself.
No.2A Canton Road, TsimShaTsui, Kowloon, Hong Kong