An important detail to ask yourself before you go on your trip is "what's Hong Kong weather like?" You look at the weather forecast and think "this is perfect summer weather where I live". When you arrive, you find out that humidity plays a factor into the weather as well and the temperature is much colder than you anticipated. Now you have to buy clothing suitable for the weather, making less room for souvenirs in your luggage. Hong Kong weather can be unpredictable at times, and if you don't plan ahead you could be stuck indoors during Hong Kong's typhoon season. Air pollution could also be a slight issue – many local Hong Kongers have some form of air purifier at home to clean out the air of common air pollutants.
Hong Kong has a sub-tropical climate, making the summers very hot and humid and the winters fairly cool with very little precipitation. In this type of climate, 4 distinct seasons are experienced. So depending on what time of year you go, Hong Kong weather can differ greatly.
Winter
The winter in Hong Kong usually starts about a week or two into December and lasts until the end of February. During this time of year, Hong Kong weather is fairly cool with average temperatures ranging from about 14-20C (57-68F). Not very much rain falls during the winter, and snow is very rare. The only places snow and frost are seen is at the highest elevated parts of the city a few times a year. Snow is very popular with the locals since it only comes a few times a year. You may see big crowds of people at these higher elevated parts of Hong Kong experiencing snow and frost for the first time.
The humidity in the winter is fairly low. Wind from Mainland China can make Hong Kong weather cold and dry. Warm and moist wind comes from the East China Sea.
The winter is one of the best times to visit Hong Kong because the weather is pretty stable. You can walk around with a sweater or a light jacket and be fine. The humidity is low and will keep you comfortable.
Spring
Hong Kong weather in the spring is very unpredictable. One day it can be sunny and warm, and the next day might have torrential rainfall resulting in black rainstorm warnings. If you visit Hong Kong between the months of March and May, make sure to prepare for anything.
The temperature starts out around 17C (63F) in March and can go as high as 30C (86F) by the end of May. With the increase in temperature comes the humidity as well. As spring gets closer to summer, usually around mid to end of April, you'll start to feel your sweat sticking to your shirt and dripping down your face. This is when air conditioning becomes a necessity. Otherwise you'll feel uncomfortable a lot of the time. And make sure to buy an umbrella and keep it with you just in case it starts to rain heavily.
The humidity in the air can cause Hong Kong to become covered in fog and clouds. These clouds and fog can block great outdoor picture opportunities. Make sure to have other indoor plans just in case the weather doesn't cooperate with your travel agenda.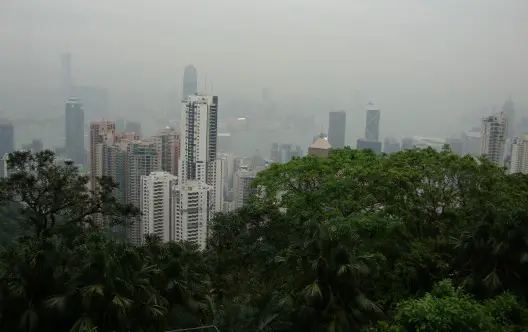 A very foggy spring day in Hong Kong
If you're in Hong Kong in the spring you should pack t-shirts and shorts for the warm and sunny days, umbrellas and waterproof attire for the rainy days, and a sweater or light jacket for the night time.
Summer
While most people think of the summer as a great time to get outdoors and make the most of the sunshine and nice weather, Hong Kong is the exact opposite. The weather in Hong Kong in the summer time makes it the worst season of the year.
Hong Kong's summer runs from June to August and it's very hot and very humid all the time. Average temperatures for this time of the year are between 26-31C (79-88F). Factor in the highest humidity levels of the year (over 80% humidity), and you'll see why people don't like the summer in Hong Kong. Just a short walk on the streets will have you covered in so much sweat you'll look like you just ran a marathon.
The most rain of the whole year falls during the summer. Short, heavy rainfalls occur all the time. What makes this time of year even worse is the chance for big thunderstorms and typhoons. If you can avoid going to Hong Kong in the summer time, you'll be glad you did.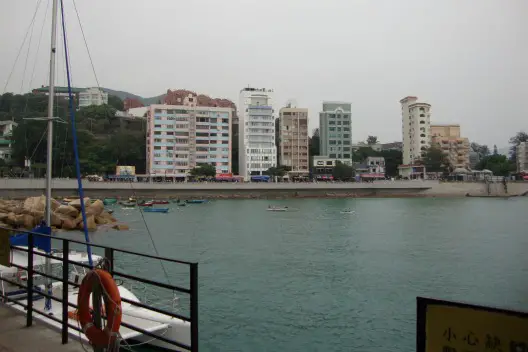 A gloomy day in Hong Kong just after a rainfall
The summer is definitely t-shirt and shorts weather, but you'll have to be careful as the sun shines it's brightest at this time of year. Even if you use sunscreen there's always the chance a big downpour of rain could wash it all away, so always carry an umbrella. Stay away from raincoats as the heat will just make you hotter.
Hong Kong weather in the summer is very unstable. The hot and humid temperatures will make you sweat, and the constant rain showers will soak you if you don't have an umbrella. Add in some loud thundershowers, and some very windy typhoons and you'll know why the people of Hong Kong dread the summer.
Autumn
Once the rain stops and the temperature and humidity start to go down, autumn has arrived. This season can be classified as the calming after the storm. Hong Kong weather conditions become much more stable and a lot more predictable.
Autumn lasts from September until the first few weeks of December. During this time you can expect temperatures to be around 19-30C (66-86F). With the humidity low and the temperatures still at a nice level, this is the perfect time of the year to go outdoors. Making travel to Hong Kong most desirable in the fall. Not much rain or clouds are seen after September.
Pack lots of shorts and t-shirts for this time of year. Autumn is the perfect time to be outside in Hong Kong. With very little rain seen in this season, you may not even need an umbrella either. You may want to pack a sweater or light jacket for the nights as they'll be colder than the daytime.
Autumn in Hong Kong is the best time of year for travellers. They can walk on the streets without worrying about getting too wet or uncomfortable from the heat and humidity. It's a great time to be outdoors and take pictures of Hong Kong's beauty.
Return from Hong Kong Weather to the HomePage