Cityplaza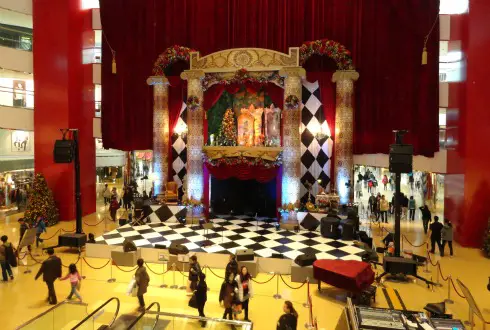 Cityplaza is a large shopping mall found in the Tai Koo District of Hong Kong Island. The mall spans 6 floors, and is the biggest shopping mall in eastern Hong Kong Island. It has many well known Hong Kong stores inside.
Some of these stores include: Apita, Wing On, Watsons, Mannings, Broadway, Toys R Us, H&M, Uniqlo and Muji. You may not recognize all these names because certain stores are only available in Hong Kong. The stores inside the mall appeal to all different types of people. This makes Cityplaza a mall with a little something for everyone.
You'll also find all kinds of restaurants inside the mall as well. Anything from McDonalds to Italian, Japanese or Chinese food is available.
Cityplaza is very spacious when compared to other malls in Hong Kong. The size of the mall makes it a very popular shopping destination among travellers and locals. Lots of people like to shop here so it can get very busy on the weekends. One day when I was at Cityplaza there was actually a long line of people waiting just to get on the escalator!

An indoor ice skating rink, called Ice Palace, can be found in the middle of the mall. An indoor ice skating rink is something quite rare in a city like Hong Kong. The skating rink is built so that shoppers can watch the people skating from higher levels in the mall.
Throughout the year there are seasonal decorations and special exhibitions on display in the mall. At Christmas time you can see some very nice Christmas decorations, and during Chinese New Year you'll see lots of red coloured decorations for the upcoming New Year.
When I was at Cityplaza in April 2010, a famous Hong Kong actor named Louis Koo had his collection of movie props and statues on display in the mall. These items included costumes, props and posters for such movies as Star Wars, Spiderman, Batman, Iron Man, Terminator, and Aliens.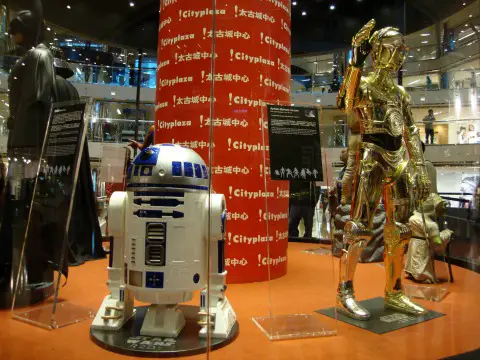 Statues of R2-D2, C3PO, Yoda, and Batman from actor Louis Koo's personal collection.
Cityplaza changes so much throughout the year that it's worth checking it out every time you visit Hong Kong, just to see what's new.
The easiest way to get to Cityplaza is by taking the MTR to the Tai Koo MTR station. The Tai Koo MTR station leads to the second floor of the mall. Very convenient.
Some Useful Links:
The Cityplaza Official Website.
Information on more Hong Kong Shopping Malls
All the types of transportation in Hong Kong
18 Taikoo Shing Road, Taikoo Shing, Island East, Hong Kong