Excelsior Hotel Hong Kong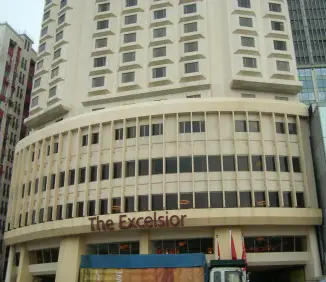 The Excelsior Hotel Hong Kong is a 5 star hotel found at the northern end of Causeway Bay on Hong Kong Island. It's located close to the Victoria Harbour, giving very nice views from the guest rooms.
The Hong Kong Excelsior Hotel sits on what is called lot number 1. This was the very first piece of land sold at an auction in 1841 when Hong Kong became a British Colony, making the Excelsior Hotel a very important part of Hong Kong's history.
The hotel has 886 rooms and suites available with views of the city and the Victoria Harbour. Five of these floors are exclusive executive floors which allow exclusive privileges such as access to a private executive lounge.
There's a big fitness center run by Fitness First Plus located on the 4th floor. This fitness center is famous for having the only indoor tennis courts in Hong Kong. Along with the tennis courts, they also have a gym, spa, sauna and steam rooms for guests.

You'll find a very extensive business center at the Excelsior Hotel Hong Kong that includes 7 separate work stations, 4 meeting rooms and secretary services if needed.
Many meeting and function rooms are available at the Excelsior Hotel Hong Kong which can accommodate all different types of functions. These rooms have a great view of the Victoria Harbour and can provide top notch service.
There are lots of choices for dining at the Excelsior Hotel Hong Kong. Try the Yee Tung Heen restaurant for authentic Cantonese food which includes special dishes from Sichuan and Hunan. The Yee Tung Heen has been recognised as one of the best restaurants every year since 1994. Go up to the top floor of the hotel and take in the beautiful view of the city from TOTT's and Roof Terrace. An Asian bar and grill with high class food and live entertainment at night. Dine at Cammino for some authentic Italian cuisine and their extensive list of wines. Visit the Café on the 1st and try their a la carte menu, or stay for a lunch or dinner buffet. Relax at the Lounge on the 1st with a snack or some afternoon tea. Have some drinks at Dickens Bar, an English sports bar popular with locals and travellers who want to see a live sporting event with a pub atmosphere. Or stop by the EXpresso coffee bar in the lobby to get a drink or snack before you go out.
Room amenities include high speed internet access in the rooms and throughout the building, TV with satellite and pay per view movies, complimentary newspaper, refrigerator, minibar, slippers, sewing kit, bathrobes, desk, in room childcare and cribs (available upon request), coffee maker, and an in-room safe.
Amenities available on the property include Limo services, parking or valet parking, computer and cell phone rentals, 24 hour front desk and room service, safety deposit box at the front desk, currency exchange, shopping, multilingual staff who can provide translation services if needed, hair salon and much more.
Nearby attractions include the Victoria Park, Victoria Harbour, and the Wan Chai Star Ferry Pier. Lots of shopping is close by with several malls including Times Square, Lee Gardens, Sogo Department Store, and lots of shops on the streets of Causeway Bay.
The closest MTR station is the Causeway Bay MTR station which is only a few blocks south of the hotel. The Hong Kong Excelsior Hotel is also only about 10 minutes away from central, the business headquarters of Hong Kong.
A stay at the Excelsior Hotel Hong Kong will be an enjoyable and luxurious time. Experience the history of seeing the 1st piece of land sold in Hong Kong when it became a British Colony. See the spectacular view or Victoria Harbour from the hotel, and experience all the shopping and business services that are less than 10 minutes away.
The Excelsior Hotel, 281 Gloucester Road, Causeway Bay, Hong Kong