Gold Coast Hotel Hong Kong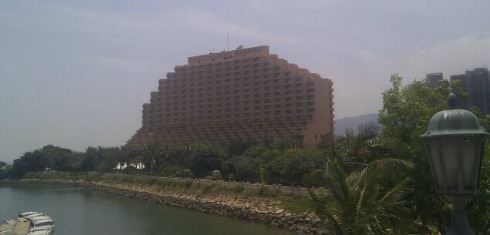 Located in western Kowloon, the Gold Coast Hotel Hong Kong is a 5 star hotel resort on the beach. It's quite a distance away from the main spots of Hong Kong, but it makes up for that with all of the activities available close by. This hotel is a popular spot for families and couples who want a nice, romantic getaway.
The Gold Coast Hotel Hong Kong has 453 guest rooms and suites available. All of these rooms have views of the sea, and most of them have balconies.
If you're in to doing lots of activities, the Gold Coast Hotel Hong Kong has the most extensive recreational facilities of all the hotels in Hong Kong. Landscaped gardens can be seen all around the property of the hotel. There's an outdoor swimming pool, tennis courts, table tennis tables, basketball hoops, badminton nets, golf driving nets, archery and much more. Activities for children include a children's swimming pool, kid's club, climbing wall and a video games room. This is the perfect hotel for those who enjoy the outdoors and playing sports but want to stay close to their hotel.
On top of all these facilities at the Hong Kong Gold Coast Hotel, there's a gym equipped with lots of fitness equipment and a European style spa. Since the hotel is so close to the South China Sea, there are also many types of water sports you can do. A lot of the equipment needed for these water sports are available at the Gold Coast Hotel Hong Kong.
Golden Beach. Found next to the Gold Coast Hotel Hong Kong
A business center is available with workstations in the lobby. Secretarial services are available upon request. The lobby also has 8 meeting rooms for anyone who may need to use one. If a larger meeting room is needed, 5 meeting rooms can be combined to make one large meeting room that can accommodate up to 240 people. The Gold Coast Hotel Hong Kong also has a ballroom for any kind of function or meeting. This ballroom can be divided into 4 smaller rooms if a smaller space is needed.
Amenities on the property include currency exchange, complimentary newspaper, 24 hour front desk and room service, parking spaces and valet parking, areas for a picnic, laundry and dry cleaning services, gift shops, public area internet access, safety deposit box at the front desk, shopping, conference center and more.
Room amenities include wireless high speed internet access, an LCD TV with satellite and pay per view movies, refrigerator, slippers, in-room safe, in-room childcare and cribs (available upon request).
Dining choices are available on site. Café Lagoon is open early and closes late to serve a la carte choices as well as buffets all day with Asian and Western style cuisine. If you're hungry for Singaporean and Malaysian food, look no further than the Satay Inn. Try the fresh seafood at YUE Chinese restaurant while enjoying the view of the sea. Enjoy some live entertainment at the Atrium Lobby Lounge (the largest hotel atrium lobby in Hong Kong) while having afternoon tea or diner.
Nearby attractions include Tuen Mun Town Plaza and Hong Kong Gold Coast Marine Shopping Mall. This hotel is far away from most attractions, but most people who come out to this hotel are here to use the recreational facilities.
The closest MTR station to the Hong Kong Gold Coast Hotel is the Tuen Mun MTR Station which is quite a ways away from the hotel. Shuttle buses go from the hotel to the airport, Tsing Yi, Tsim Sha Tsui and Tsuen Wan. It takes about half an hour on the shuttle bus to get to Tsim Sha Tsui from the bus stop near the hotel. Bus routes run close to the hotel as well.
Gold Coast Hotel Hong Kong, 1 Castle Peak Road, Castle Peak Bay, Kowloon, Hong Kong