Hong Kong Brands and Products Expo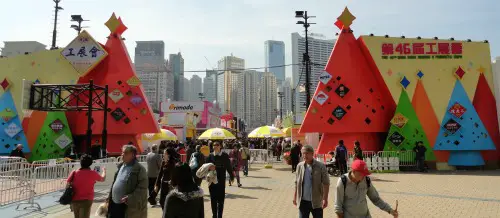 The Hong Kong Brands and Products Expo is a popular expo held every year at Victoria Park Hong Kong. The expo hosts businesses that sell food, snacks, drinks, cooking utensils, sauces, and a wide variety of items for the home.
The Hong Kong Brands and Products Expo usually starts in mid December and goes until early January. As of 2012, this will be the 47th year for the expo.
There is an entrance fee of $10 HKD to get into the expo. Once you pay for your ticket, the attendant will give you a program containing information about the expo. This program includes a map.
The reason why the Hong Kong Brands and Product Expo is so popular is because most of the items sold here are cheaper than what they are sold for in a store. Some people visit the expo daily to buy their food since it's the cheapest place to get it.
I went to the 46th expo in 2011 with my wife and her uncle. We got there early because we knew it would get busier as the day went on.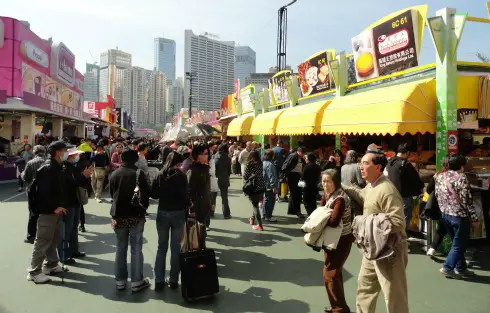 We started by walking around the section with kiosks serving cooked food. Some of this food includes popular types of Hong Kong street food. I had some dumplings and shared an Okonomiyaki with my wife. There was a kiosk selling cheap Abalone, so my wife and her uncle ate some. I don't like Abalone so I left it all for them to enjoy.
There was also a very famous Egg Tart shop inside called King Bakery. If you want to try some of the best Egg Tarts in Hong Kong, I suggest you try one from King Bakery. I don't even like Egg Tarts and I enjoyed the one made here.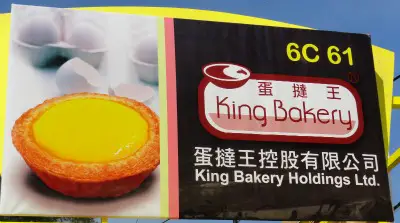 As we continued on we found tons of kiosks selling food,
snacks and drinks. Many of these places had free samples you could try. Some of
these kiosks had promotions like spend $100 HKD and get a free bag with wheels.
We purposely bought more than we needed so we could get this cool bag. And the
best part was that we could use the bag to carry our things around for the rest
of the day.
Since we don't live in Hong Kong we had to be careful what
we bought because certain food can't be taken back home with you on an
airplane. So we made sure to limit the amount of meat, fruits and vegetables we
bought. We purchased just enough to have during our stay in Hong
Kong.
There were many things sold at the Hong Kong Brands and
Products Expo that we can't find in Canada. And if we do find these
things, they're marked up a lot. So we stocked up on snacks and drinks we like
and brought them back home with us.
There's a section of the expo where people showcase their
products and try to sell these products to people. They'll show you what their
product does right in front of you so you can see what it does. Some of the
products I saw included massage chairs, various home and cooking products, and
clothing. We bought a can opener that opens cans differently. The opener cuts
metal on the can in a way that prevents the top from getting sharp edges. It's
quite convenient once you learn how to use it.
I recommend getting to the Hong Kong Brands and Products
Expo early because it can get very crowded in there during the daytime. We got
to the expo early and stayed for a few hours. By the time we were ready to
leave it was getting very crowded. Certain spots felt like I was fighting
through people at a rock concert to get anywhere!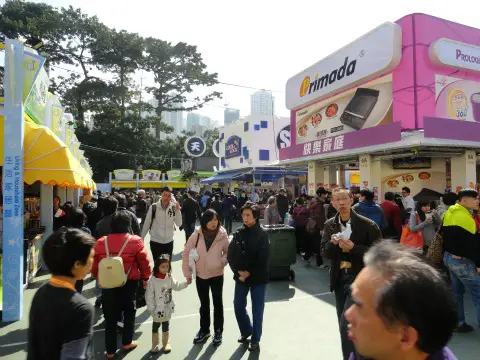 A lot of the people who visit the expo are from Mainland China. There are day trips set up that take people on a bus from China to Hong Kong just to go shopping at this expo. When they're done they take the bus back to China. This day trip is very popular in China because people know that the food from Hong Kong is safe. From my experience I've found that people from Mainland China don't have any manners and it really irritates the locals. So a lot of the locals won't spend more than an hour or two at this expo because they get tired of being pushed around in a large crowd. After experiencing it first hand, I can understand why.
We saw a kiosk inside that only sold Pomellos. My wife's uncle really likes to eat Pomellos. So before we left we had to go find the Pomello shop again so he could bring some home. If you know what a Pomello is, you know exactly why we waited until we were ready to leave before buying them. Pomellos are big yellow fruits, about 2-3 times the size of a grapefruit, and they're quite heavy. We didn't want to be carrying them around all day. He bought 4 Pomellos, which even surprised the people selling them! I think he was glad I was there to help carry two of them in a bag.
There's also a Miss Exhibition Pageant during the expo. If you're interested in seeing the Miss Exhibition Pageant, check the official Hong Kong Brands and Products Expo website to see when it takes place.
The easiest way to get to the Hong Kong Brand and Products Expo is to take the MTR to the Tin Hau MTR station. From here it's only a short walk to Victoria Park Hong Kong. You'll have to walk through Victoria Park until you see the expo. There should be signs inside the park letting you know where to go.
If you're in Hong Kong during December or early January and you're looking for something to do, why not visit the Hong Kong Brands and Products Expo? It's something only a few people get to do on their trip, and you get to learn about all the different kinds of food and home products sold in Hong Kong. You could even bring some of these things home and have a practical souvenir for yourself or friends and family.
Some Useful Links:
Hong Kong's official Brands and Products Expo website
Transportation in Hong Kong and the MTR
Return From Hong Kong Brands and Products Expo To The HomePage
Buy the Hong Kong Trip Guide e-Book Today!