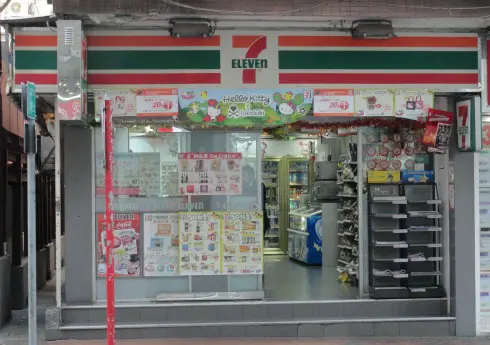 Hong Kong Convenience Stores are exactly what they're described as, convenient. They're found on almost every street in the city and have all sorts of things for purchase inside.
One of the great things about Hong Kong is that most things that you need are at a store within a short walking distance of your accommodations. Most people don't even store much food in their home. It's more convenient to walk to a store that's less than a block away, get fresh ingredients daily and then cook breakfast/lunch/dinner. Not to mention that space is very limited in homes in Hong Kong.
Hong Kong Convenience Stores are one of these stores that are conveniently located close to wherever you are. They are open 24 hours a day.
When you first walk into one of the Hong Kong Convenience Stores you may notice that it seems a little crowded in there. These stores carry a lot of products in a small space, and they have to find a way to cram it all in there. Hong Kong people are very good at using limited space to its maximum capacity. You'll probably see other space saving practices as you travel all over the city.

Looking around the store you'll find lots of interesting Chinese/Japanese candy, Hong Kong style drinks, toys, personal hygiene products, magazines, alcohol, Hong Kong style fast food, and much more. It's pretty much a one stop shop for almost anything you need.
There are 3 main chains of convenience stores that I visited in Hong Kong. They are: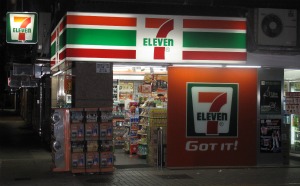 7-11
7-11 is probably the most popular Hong Kong Convenience Store because it's the most well known around the world. You can buy their trademark Slurpee here, which may taste different from what you're used to (only available at certain locations). 7-11 had an exclusive chewy candy in the shape of dog bones that I really liked.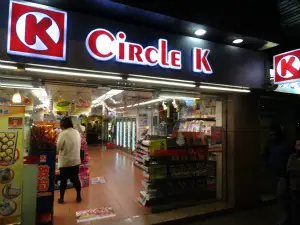 Circle K
Circle K is another popular Convenience Store in Hong Kong that was founded in the U.S.A. The store's sign is a red circle with a red "K" inside the circle. Some people call it "OK" or just "K," but the real name is Circle K.

V>nGO
V>nGO is the Hong Kong Convenience Store I'm least familiar with out of these 3. It has a lot of the same products as the other 2 stores for sale inside. V>nGO is considered to be more of a premium convenience store, so you may notice that prices for items here are a bit more expensive than in other stores. The name V>nGO is quite unique.

If you've ever been in any convenience store in the world, you've probably noticed that prices for items are higher in convenience stores than if you were to buy the same item at a grocery store or street shop. This isn't always the case in Hong Kong. Depending on what you're buying, you may find certain things to be cheaper in a convenience store than anywhere else. So you may want to check the local 7-11 or Circle K first to see if what you're buying is cheaper than at a grocery store or street shop. You may luck out and find what you want is available 24 hours a day and costs less than in any other store!
I bought lots of different fruit and pop flavoured candies from these Hong Kong Convenience Stores. They have these chewy fruit flavoured candies similar to starburst that I enjoy called Hi-Chew. I stocked up on these with 1 of each flavour and brought them back home. I also bought some hard candies that taste like Japanese pop like Ramune and melon cream soda. They even feel fizzy in your mouth as you eat them.
I tried some interesting drinks for sale in their fridges. Some of these included Ceylon lemon tea, blackcurrant juice, a Japanese orange juice called Nat-Chan Orange, and Fanta pop. Hong Kong has special flavours of Fanta only available in Hong Kong that come out once in a while. Some of these unique flavours I tried include a pineapple flavour, watermelon flavour, and green apple flavoured Fanta. They all tasted very sweet, similar to candy. You can also find a unique tasting Schweppes Cream Soda that comes in a yellow can. It tastes a little different from other cream sodas. This pop in my wife's favourite. I enjoy the Ceylon Lemon Tea, Nat-Chan Orange, and most Fanta pop flavours in Hong Kong. My favourite pop is Japanese melon cream soda flavoured Fanta. This pop is very difficult to find outside of Japan though. I couldn't even find it in Hong Kong. I've found other brands with the same flavour, but it doesn't taste the same as the Fanta melon cream soda.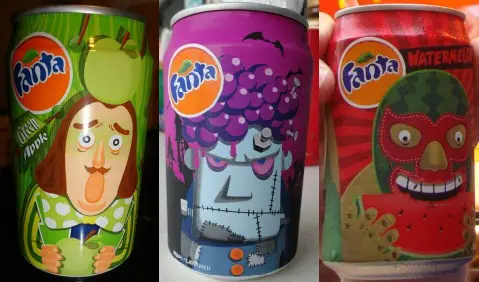 Some of the interesting cans of Fanta pop I tried in Hong Kong
It's a shame to find something you like in a different country and then you go home and can't find it in stores. I've visited many import stores in my hometown where I've found some of these things for purchase. The only catch is that they're usually expensive because they were imported from another country. But if you like it enough, you just have to bite the bullet and get it once in a while.
If you can read Chinese, there are lots of magazines sold in the Hong Kong Convenience Stores. My wife enjoys reading the gossip and fashion magazines, so whenever we go to Hong Kong we buy some and bring them home for friends and family to read as well.
A lot of magazines in Hong Kong come with a free item, like a brand name purse or handbag, to entice customers to buy the magazine
On my first trip to Hong Kong, we went to Japan for 2 weeks after we had been in Hong Kong for 2 weeks. Inside one of the Hong Kong Convenience Stores we found a tourist information book on Japan. The book was in Chinese and catered to Chinese people's interests. This tourist book had very useful maps, lots of pictures, and information on some attractions we may have missed without buying the book.
Hong Kong Convenience Stores are one of the places you can refill the balance of money on your Octopus Card. You just give some cash to the attendant, hold your Octopus Card up to the specified Octopus Card spot at the cash register, wait for a "doot" sound, and see your balance increase on the digital screen above the card reader. The Octopus Card is a very popular way to pay for items at a Hong Kong Convenience Store.
My favourite thing about Hong Kong Convenience Stores is the frequent buyer rewards programs that they have. Every time you spend $20 Hong Kong on items in the convenience store, they give you a sticker. You put these stickers on a card and collect them until you have enough stickers to redeem the card for a special toy. These toys are specially made for that specific convenience store chain and can't be obtained anywhere else (unless you try ebay or a store that resells the toys after buying them from the convenience store). This is a great way to get customers coming back to their store to buy things to get these toys.
A stamp collection card for the Hello Kitty X Tokidoki promotion at Hong Kong 7-11 during Christmas 2011-Chinese New Year 2012
When I was in Hong Kong in 2010, 7-11 was running a Dr. Slump (a Japanese comic/cartoon series) promotion. You had to spend $20 Hong Kong on products at 7-11 to get a sticker. When I had collected 16 stickers, I was able to redeem my card filled with stickers for a free 7-11 Dr. Slump toy. If I only was able to get 8 stickers, I could buy the toy for a discounted price. If I didn't want to collect stickers, I could buy the toys for a higher price. 7-11 also had certain items in store that if you bought you would get bonus stickers.
Competing stores have similar promotions as well. Circle K had a promotion where if you spent $20 Hong Kong on items in the store, they would give you a small plastic package that contained a points sticker (10, 20, 30, 50 or 100 points) and some coupons that could be used in the store on a later purchase. You had to get up to 250 points in order to redeem your points for a limited edition Winnie the Pooh mini stuffed animal. We collected enough points to get a Winnie the Pooh inside a bee costume stuffed animal. The only problem was that all their stock was sold out and they were waiting for 4 weeks to get more. Luckily my wife has family members who live in Hong Kong and they were able to pick it up for us after we had left Hong Kong. You may want to check on the availability of these toys before you start collecting stickers. You don't want to be disappointed after collecting for so long.
Depending on the store and the promotion, the toys may be randomly put into boxes. You'll have to buy the toy and try your luck to see which one you get. In my experience, 7-11 puts toys randomly in boxes that you purchase, and Circle K lets you pick the toy you want from their list (provided it's available). The few times I went inside V>nGO I didn't see any toy promotions, but they had Gashapon capsule toy machines located outside of the store.
If you're hungry, you should try some of the food inside the Hong Kong Convenience Stores. The food is made daily and tastes pretty good. The food will be given to you in a bag, plastic bowl, or on a stick so you can eat it on the go. Just like the Hong Kong Street Food you can buy on the streets.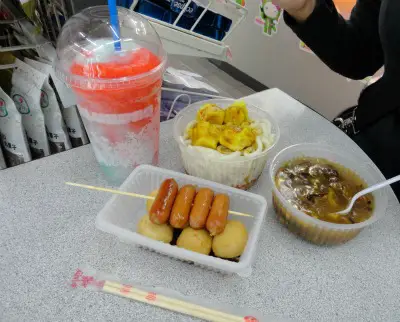 Some of the food you can buy at 7-11 in Hong Kong
During your stay in Hong Kong you'll most likely visit a few Convenience Stores. Take some time and look around the store. You may have as much fun looking at all the different products and promotions inside as I did.
Some Useful Links: