Hong Kong Kimberly Hotel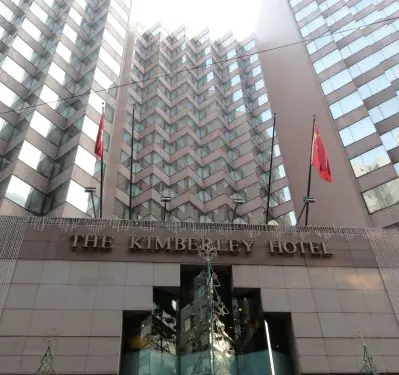 The Hong Kong Kimberly Hotel is located inside of Tsimshatsui, Kowloon, a giant shopping and entertainment district in Hong Kong. This is a great location for anyone looking to experience one of the most lively areas of Hong Kong. If you really like shopping, you'll be happy to know that most shops in the area close late. Giving you lots of time to get your shopping done.
The Hong Kong Kimberly hotel has 546 guest rooms with 6 different types of rooms to choose from ranging from a standard room all the way up to deluxe suites. Each room comes with amenities including a private bathroom, cable tv, broadband internet access (costs extra), mini bar, and an in room safe. Room service is also available upon request.
Other amenities include guest parking with valet services, a car rental service, laundry services, currency exchange, and babysitting (available upon request).

There are a variety of restaurants available inside the Kimberly Hotel Hong Kong. Restaurants serving Japanese and Chinese food, as well as a coffee house and a lobby lounge are available for those looking to dine inside the hotel. The lobby lounge offers American style breakfasts, lunch and dinner buffets, special Asian dishes and an a la carte menu that can be found in the lobby.
Two multi-purpose rooms are available for any kind of function, business meeting or banquet that guests are hosting or attending. The Kimberly Hotel Hong Kong also offers a business center, gymnasium, a golf driving range with nets, and the famous Club Cavalier Health Spa. The Club Cavalier Health Spa is known to be one of the most luxurious health spas in all of Hong Kong.
The Hong Kong Kimberly Hotel shares the same name as the road it sits on, Kimberly Road. Kimberly Road is a little ways away from a lot of the popular attractions and shopping in Tsim Sha Tsui, but it makes up for it from all of the unique street shopping available on the streets close to the hotel. You may have to walk a little further than the Hong Kong hotels located at the Victoria Harbour waterfront, but you'll save a bit of money by staying here.
The nearest MTR station is the Tsim Sha Tsui MTR station which is a 5-10 minute walk from the hotel.
Some attractions located nearby include the Victoria Harbour, A Symphony of Lights the Avenue of the Stars, and Kowloon Park.
The Kimberly Hotel in Hong Kong is rated as a 4 Star Hotel.
Some Useful Links:
The Kimberly Hotel Hong Kong Official Website
The Kimberly Hotel, 28 Kimberly Road, Tsimshatsui, Kowloon, Hong Kong