International Finance Centre
Hong Kong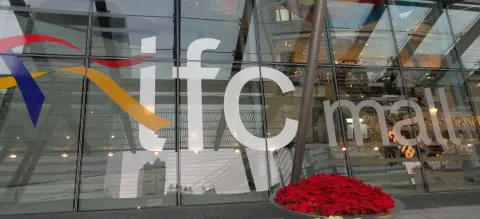 The International Finance Centre Hong Kong or "ifc" is a fairly new shopping centre found in the Central District of Hong Kong Island. The ifc consists of an office tower, a shopping mall and the Four Seasons Hotel Hong Kong.
The office tower of the International Finance Centre Hong Kong is the tallest office tower in Hong Kong. This is the building in the movie The Dark Knight that Batman jumps off of.
The mall at the International Finance Centre, named ifc
mall, is a high end shopping mall that sells Brand name products. The very
first Apple store in Hong Kong opened in the
ifc mall in September 2011.
Some of the stores found inside ifc mall Hong Kong include: 7 for all
mankind, Apple, Bally, City'Super, Coach, Hugo Boss, Prada, Swarovski, Tag
Heuer, and Valentino.
There's also a Cinema, called Palace IFC Cinema, inside the ifc mall Hong Kong. Movies at the Cinema in Hong Kong are a mixture of local Chinese and International English movies. International movies are either dubbed in Chinese or have Chinese subtitles. If you decide to watch a movie at a Cinema in Hong Kong, make sure the movie is being shown in a language you understand before you buy the ticket.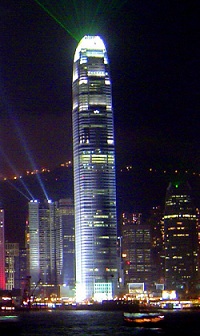 Sometimes the ifc mall has special musical performances in one of the big common areas of the mall. These performances range from local musicians to children's choirs. If you're lucky you might catch one of these performances while you're shopping in the mall!
There's a lot of room for shoppers to walk in the hallways of the ifc mall Hong Kong. The washrooms are kept very clean and are a good choice for anyone needing to use a public restroom. Lines to get into the washrooms can be very long when the mall is busy. But it's worth waiting in a long line to get into a clean washroom than walking into a really dirty one with no line somewhere else.
The International Finance Centre is located next to the Hong Kong MTR station. It can easily be reached in a few minutes of walking from this MTR station. The Hong Kong MTR station is the last stop on the Airport Express MTR line.
Some Useful Links:
The Official International Finance Centre HK Website
8 Finance Street, Central, Hong Kong Island
Return From International Finance Centre Hong Kong To The HomePage
Buy the Hong Kong Trip Guide e-Book Today!