Jade Market Hong Kong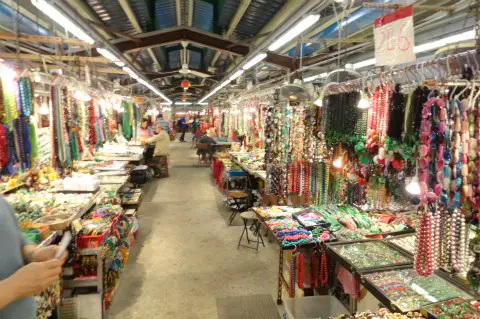 The Jade Market Hong Kong is a famous marketplace in Kowloon, Hong Kong that sells all different kinds of Jade. You can find all different types of jade ranging from only a few dollars in price all the way up to hundreds, or even thousands of dollars. It all depends on the purity of the Jade you're buying.
The Jade Market is not only home to different kinds of jade ornaments, pendants, carvings, bracelets, rings and trinkets, but to many other novelty items as well. The market offers other Chinese crystals and precious stones as well. Many carvings, statues, dolls and Chinese ware can be found in the area. And if you can't find what you're looking for, there's a good chance you can find someone who will make it for you.

The market is located in Yau Ma Tei, Kowloon, specifically in Battery St. You can reach Jade Market on foot from the Jordan (exit A)MTR station or from the Yau Ma Tei (exit C) MTR station.
If you prefer to ride by bus, you can board Bus 9 from the Star Ferry bus station and have the driver drop you off at the Kowloon Central Post Office. The post office is located on Nathan Road and from there you can walk your way to the market, which is just around the corner. Jade Market, by the way, splits into two parts. One part falls near the Gascoigne Road overpass at the western part of Nathan Road while the other part continues to the other side of the loop formed by Battery Street.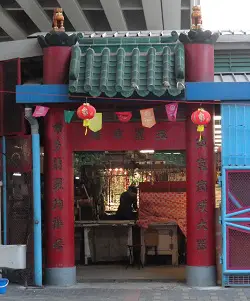 The Jade Market is an indoor market that can easily be missed if you're not sure what you're looking for. Look for an entrance that looks similar to this picture. There are a few different entrances to the Jade Market Hong Kong, but they all should look very similar to this one.
If you prefer buying jewelry at a store instead of from a small vendor at a market, you can walk to Jade Road which is found next to the Jade Market. There are shops all along Jade Road that sell Jewelry made out of Jade. These shops close earlier than the Jade Market does, so you'll need to arrive early if you want to do some shopping here.

After visiting and shopping in Jade Market Hong Kong, you can also check nearby tourist attractions such as the Avenue of the Stars, Victoria Harbour, Apliu Street Market, and Kowloon Park. You can also walk to the corner of Canton Road and Jordan Road where a huge Jade Stone sits as a landmark for many people.
If you're still in the mood for some more shopping after visiting the Jade Market, you can visit the Temple Street Night Market which is less than a 10 minute walk away. Just make sure you don't visit the Temple Street Night Market during the day. You won't see anything at the night market until it opens after 5 pm.
Although many expensive pieces can be found in here, if you are new to buying jade pieces and ornaments, it would be wise to go for cheaper trinkets and ornaments first. If you find an expensive piece of Jade that you just can't live without, you can bring it to the Jade Plaza and have it tested before you buy it. This will rule out any question of the Jade being fake.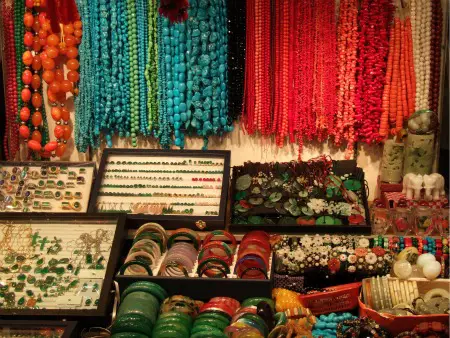 Some of the jade jewelry for sale at the Jade Market
Top quality jade has a semi-transparent appearance and is pure green in color. Other pieces have a slightly yellowish hue. There should be no grey or brown tint. There are also opaque and cloudy jade pieces, but they are typically cheaper. Another way to tell if the Jade you're looking at is real is to see if it feels smooth and cold when you touch it.
There are about 400 stalls in this market selling mostly Jade jewellery, novelties and souvenirs. The Jade Market Hong Kong is open from 10 am to 5 pm. When I visited the Jade Market it was still open at 6 pm, so I think it stays open later depending on how many customers are inside, time of the year, etc.