Kowloon Walled City Park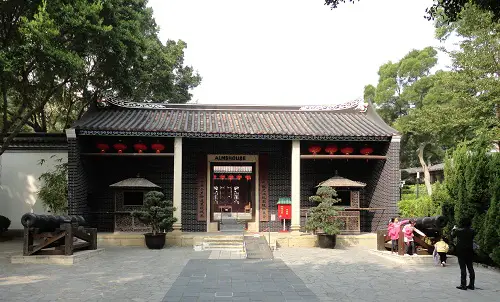 The Kowloon Walled City Park is a historical park located in Kowloon City. The Park was built on the land where an old city surrounded by a large wall, named Kowloon Walled City, used to be.
Back in the 1800s a walled city was built in Kowloon City. During this time it was occupied mainly by the Kowloon Military. Just before the turn of the century, in 1898, the British leased some land from China for a period of 99 years. This land would eventually be known as the New Territories. About a year later, British troops went into Kowloon Walled City and took it over.

Kowloon Walled City didn't see much growth until after World War 2 when the Japanese gave control of Hong Kong back to the British. The population increased due to lots of refugees fleeing from China.
For the next 40 years Kowloon Walled City became an enclosed city with almost no law enforcement. Drug use, prostitution, gambling, and many other illegal activities were very common. Organized crime groups such as the Triads moved in and took over. Unlicensed dentists and doctors came in and practiced their trade here. With no threat of laws or police inside the walled city, people could do whatever they wanted and get away with it.
Eventually the British and Chinese governments became fed up with what was going on inside. In 1987 it was decided that Kowloon Walled City would be demolished and made into a park. Demolition finished in 1994 and the Kowloon Walled City Park was built in 1995.
If all this history sounds interesting, then Kowloon Walled City Park could be the perfect outing for you.
It's a bit difficult to get to the Kowloon Walled City Park since the closest MTR Station is the Lok Fu MTR Station, and it's quite a walk from Lok Fu Station to get there. So you should look for a bus that goes this way or take a taxi to the park. My suggestion is to find a bus route that goes to the park.
If you take a taxi, there's a good chance the driver won't know where you want to go because he or she only knows the Chinese name for Kowloon Walled City Park. So if you can bring a picture (or the Chinese characters of the park name) with you to show the driver where you want to go, you may have a better chance of finding it. When I was at Kowloon Walled City Park I noticed that lots of taxi drivers take their breaks on the road next to the park. Most of these taxis are off duty and don't have a driver inside. When you're done sightseeing, you might have a hard time finding a taxi to drive you away from the park. So to prevent unwanted headaches, and save some time, take a bus instead.
It's a good indication that you're in the right place when you see a tall, old concrete wall. You'll know when you see it. Find an entrance and go inside.
Inside the park you'll see lots of old rocks and artifacts, a few gardens, traditional Chinese architecture buildings and lots of trees. The mixture of traditional buildings, old artifacts and nature give a unique contrast to the park that you won't find anywhere else in Hong Kong. It was very interesting to see how different things look here compared to the rest of the city.
A Traditional Chinese Architecture Building found inside the park.
The southern entrance was known as the main entrance and still has a few old signs. One of them is broken, but has been left on the ground in its broken state. Also in the southern end of the park is a "shadow wall" and a model of the old Kowloon Walled City. The shadow wall is a picture of the old walled city as someone would've seen it standing outside of the walled city.
To me the Kowloon Walled City looked like a bunch of tall buildings squished tightly together with a hole in the middle where a much smaller building sat inside. Almost like a square shaped donut. The design kind of makes me wonder if anyone inside the walled city ever got to see any daylight from the sun.
Up in the northern part of Kowloon Walled City Park you can walk around the only part of the city that was left the way it was many years ago. This section of the park, known as a "Yamen," has been made into an educational area where you can learn all about the history of the Kowloon Walled City. Each building has a special exhibition inside, so definitely check them all out. The section with the most information has a small replica of the park.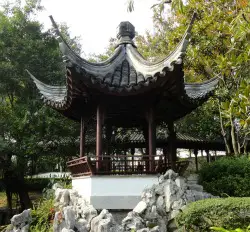 You can also pick up a map of the park and an information pamphlet in the Yamen. There's a lot to see and learn at the Kowloon Walled City Park, so take your time, get lots of pictures, and enjoy the scenery.
Several traditional Chinese buildings can be seen throughout the park. There's a gate close to the middle of the park with 2 perfectly restored cannons in front of it, one on each side.

One of my favourite spots in the Kowloon Walled City Park was a traditional Chinese building that sits on top of a pond. It was quite relaxing to walk around it.
Guided tours of the park are available daily, but the tours are only spoken in Cantonese. Even if you can't understand Cantonese, a tour around the park might be useful for those who want to make sure they see everything inside the park.
There isn't too much else to see around the Kowloon Walled City Park. The only thing of interest might be the old Kai Tak Airport that's located nearby. The Wong Tai Sin Temple is located one MTR station away from the Lok Fu MTR Station at the Wong Tai Sin Station. Alternatively you could take the MTR from Lok Fu Station going west and get to Mong Kok in 2-4 stops, depending on which MTR line you take.
If you do visit Kowloon Walled City Park, take a walk through Carpenter Road Park. Carpenter Road Park is located right next to the walled city park and is a nice walk. Since there aren't really any other attractions nearby, Carpenter Road Park would be worth wandering through if you want to spend more time in this part of the city.
Return From Kowloon Walled City Park To The HomePage