Stanley Hong Kong
Stanley Hong Kong is a town located on the southern end of Hong Kong Island. It's a very popular tourist attraction with great views, lots of shopping, and great restaurants.
The town of Stanley Hong Kong consists of a peninsula in south eastern Hong Kong Island that extends to the furthest point south on the island. On this peninsula you can relax, swim, and enjoy the views of the ocean from Stanley Main Beach or St. Stephen's beach. These beaches also have spots where you can barbecue with friends or family. Both of these beaches have netting set up in the ocean to protect swimmers from dangerous animals like sharks. If you're in Hong Kong in June, you can see the annual Stanley Dragon Boat Races at Stanley Main Beach.
Something everyone should do when visiting Stanley Hong Kong is take a walk along Stanley Main Street. Stanley Main Street spans across a section of waterfront in Stanley. There are lots of restaurants and bars serving a variety of cuisines along the street. You can dine outside on a nice day and enjoy the view while getting something to eat.
Click here for a panoramic view of Stanley
The Stanley Promenade is a walkway next to Stanley Main Street. It's built right next to the water and gives pedestrians a nice open area to walk close to the sea.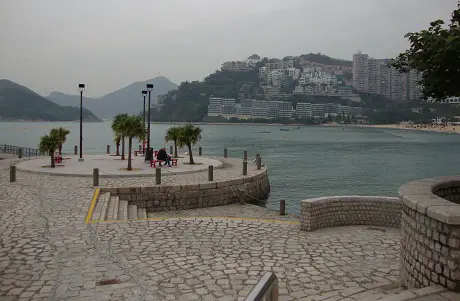 Stanley Promenade
Close to Stanley Main Street is the Stanley Public Pier. Here you can walk on to the pier and get some great pictures of the surrounding buildings.
On Saturdays and Sundays you can ride on a traditional Chinese Junk called Aqua Luna. Aqua Luna departs from Stanley Public Pier and takes you on a ride to the Victoria Harbour. Day cruises on the Aqua Luna from Tsim Sha Tsui or Central Public Pier to Stanley and back are available on Saturdays and Sundays as well.

Close to Stanley Main Street and the Stanley Public Pier is the Murray House. The Murray House is a building originally built in the 1840s in Central for officers at the Murray Barracks. It was moved to Stanley to make room for the Bank of China Tower in Central. The top floor of the Murray House has lots of restaurants. When I went to the Murray House, I ate at a restaurant called Saigon that serves Vietnamese food. It was good food at a reasonable price. The Hong Kong Maritime Museum is on the ground floor. This museum has many ships and boats on display and promotes travel on water.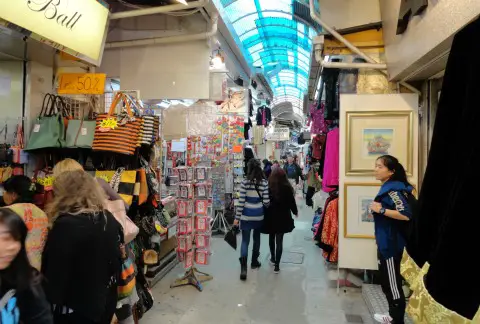 A very popular part of Stanley Hong Kong is the Stanley Market. The Stanley Market is a traditional Chinese marketplace where you can find all kinds of souvenirs. Items sold here include clothing, toys, Chinese art, and souvenirs. You can find these things here fairly cheap. There are a few small places inside to eat as well. It's a good shopping market to find something to bring back home for friends and family.
When I was in the Stanley Market in 2010 I bought some t-shirts and a few Chinese souvenirs. My wife's aunt and uncle, who were there with us, bought a picture that has our names in Chinese characters on it.
There's also a shopping centre found next to Murray House called Stanley Plaza. Inside Stanley Plaza you'll find many stores and restaurants.
If you like temples, you can find three temples throughout Stanley. These include the Tin Hau Temple, Tai Wong Yee Temple, and the Kwun Yum temple.
There is no MTR line that goes into southern Hong Kong, so your only choices for getting to Stanley are by bus, taxi, or car. Lots of buses go to Stanley from MTR stations in Northern Hong Kong Island.
Just north of Stanley is Repulse Bay and Tai Tam Country Park and Reservoir. If you have some time before or after you go to Stanley, a trip to either of these places is worthwhile.
Stanley is a great area of Hong Kong to visit if you want to get away from the busy city. You can relax at the beach, eat somewhere at the waterfront while enjoying the wonderful view, visit a museum or two, and see a couple temples if you like. Lots of good shopping is close by at the Stanley Market as well.