Golden Computer Arcade & Golden Computer Centre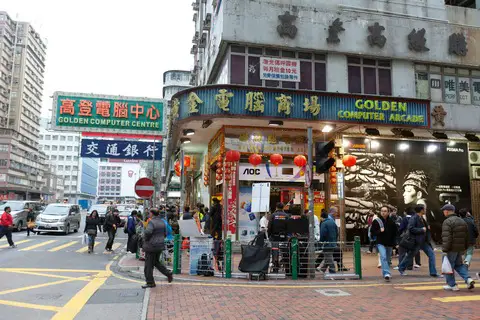 The Golden Computer Arcade and Golden Computer Centre are two shopping centres in Sham Shui Po, Kowloon that sells Computers, Laptops, Computer parts, accessories, peripherals, electronic devices, and video games. These two computer shopping malls are located in the same building, making it easy to shop at both malls if you want to.
Some people claim that the prices for items at The Golden Computer Arcade/Centre are cheaper than in the rest of Hong Kong. I personally don't know if this is true. There are other Computer Malls in Hong Kong, but I've never compared prices between all these malls. I do know that the prices here should be cheaper than the big electronics stores such as Broadway and Fortress. That being said, most of the items sold here are cheaper than what you can find it for back in your home country.
The shops inside the Golden Computer Arcade and the Golden Computer Centre are quite small and independently owned. They usually have lots of products crammed into their small section of the mall. Prices are generally lower than what you'll find in a big electronics store. Make sure you bring lots of cash since most shops only accept cash. You can try bargaining with the shop owners to get a lower price if you like.
Since most shop owners speak a limited amount of English, it's best to know exactly what you want when you go to buy it here. If you have any questions about something you want to buy, chances are the shop owner won't be able to give you an answer unless you speak Cantonese or Mandarin. This can make it a bit tricky to try to bargain with shop owners, but numbers are the same all around the world so you should still be able to bargain.
When you walk inside a shop, most shop owners will show you the item you're interested in, and then display the price on a calculator. If you bring a calculator with you, you can convert their price into your home currency and see if that price is reasonable to you. I recommend shopping around before you buy. Some shops may have a slightly higher price than others, or they may think they can get more money from tourists.
Sometimes shops near the entrance of the Golden Computer Centre or Golden Computer Arcade will have a slightly higher price on their products than a store further into the mall. Since their shop is close to the entrance, shop owners can sell things for a higher price to people passing by. They know these people may not have time to shop around. So I recommend looking for whatever you plan to buy at 3 to 4 shops before you purchase it. You'll get an idea of how much that computer part costs and you might save a bit of money too!
When buying anything from a mall like the Golden Computer Arcade, be aware that whatever you buy won't come with a warranty. That's the main disadvantage of buying here. If you don't need a warranty on your item, then everything's fine. But if you're planning to spend a lot of money on something, you might want to think twice about buying it from a shop inside this mall.
The hallways inside Golden Computer Centre and Arcade are much smaller than other malls in Hong Kong. It's very easy to become squished in a crowd of people when the mall is busy. Make sure to keep an eye on your belongings at all times. You don't want anything important to get stolen.
If for any reason you can't find what you're looking for at either Golden Computer Centre or Golden Computer Arcade, you can try your luck at one of the other Computer Malls in Hong Kong. If you want to buy video games, visit Oriental 188 Shopping Centre.
The Golden Computer Arcade and Golden Computer Centre are located inside the "Golden Building" on Yen Chow Street in Sham Shui Po. You easily can get here by taking the MTR to the Sham Shui Po MTR Station. From here it's only a couple minutes walk to get to the Golden Computer Arcade/Centre.
Some Useful Links:
Information on more Computer Malls in Hong Kong
Oriental 188 Shopping Centre – A mall dedicated to video games.
All forms of transportation in Hong Kong