Hong Kong Computer Centre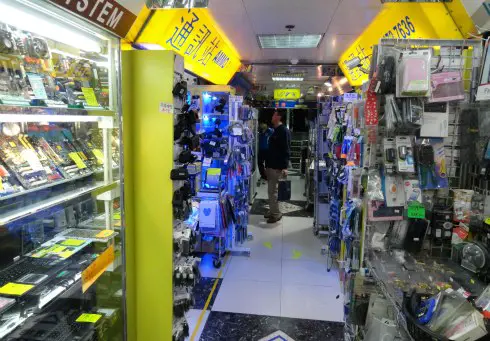 If you're looking to buy a computer or computer parts, you should visit a Hong Kong computer centre. These malls sell all sorts of computers, laptops, computer parts, accessories, and peripherals. You may find a few stores in these computer centres that sell video games, but the Oriental 188 Shopping Centre is where you should go for video games. The whole Oriental 188 Shopping Centre is dedicated to video games.
You may be thinking that buying a computer in Hong Kong will be much cheaper than in your home country. It all depends on what you buy though. A whole computer or laptop might be the same price as it would be to buy it at home. The difference is that Hong Kong has no sales tax so you can save some money that way. If you were to buy a desktop computer in Hong Kong, sending it home with you on a plane could be costly if you need to pay for extra luggage to get it home. So in the end you may be better off just buying it somewhere close to home.

You will find computer parts, accessories, or peripherals to be quite cheap in Hong Kong. These can be transported home a lot easier since they're usually smaller than a whole computer. So purchasing smaller computer parts in Hong Kong might be the best items to buy at a Hong Kong computer centre.
Some tips when shopping at a Hong Kong computer centre:
– Most of the stores in these malls only accept cash, some accept debit cards, and very few accept credit card. So bring lots of cash if you plan to spend a lot.
– If you have time, shop around the stores in the mall before purchasing. A lot of times the stores near the entrance will sell the same item for more than the stores further in the mall.
– Some vendors may not have price tags on their items. This could be them trying to sell their products to tourists for more than the actual price. Another good reason to shop around before buying.
– Make sure you ask if whatever you're buying comes with a warranty. Some items are sold here with no warranty. And if it does come with a warranty, you may need to bring it back to Hong Kong if something goes wrong and you need to get it fixed.
– Some of the people in the Hong Kong computer centre don't speak English. Learning a few Cantonese words (like "how much?" and "thank you") will help you out a lot here. Vendors will usually show the price on a calculator, which is good as long as you don't have any questions about the product.
– You can find major chain electronics stores in shopping malls (not in the computer centre) all across Hong Kong. It may cost a little more, but you get a warranty, they accept credit cards, and most people speak English in the stores.
---
A list of the main computer malls in Hong Kong.
Hong Kong Island
Wan Chai
Computer Centre
The most popular computer mall on Hong Kong Island. Wan Chai Computer Centre is located very close to the Wan Chai MTR station.

---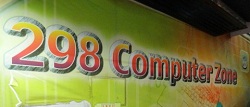 298 Computer Zone
Another computer mall located in Wan Chai. 298 Computer Zone is just a few blocks away from the Wan Chai Computer Centre, and very close to the Oriental 188 Shopping Centre.

---
Kowloon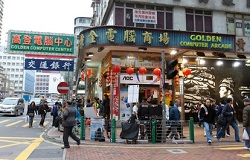 Golden Computer Arcade and Centre
The very first computer shopping centre built in Hong Kong. The Golden Computer Centre sells all kinds of computer hardware and software as well as video games. It is known as one of the cheapest places in Hong Kong to buy a computer.
Golden Computer Arcade is found in the same building as the Golden Computer Centre. If you can't find what you're looking for in one of the 2 computer malls, you can easily try the other one.
Both shopping centres are a short walk away from the Sham Shui Po MTR station.

---
Mongkok Computer Centre
A popular computer shopping centre found on the busy streets Mongkok. Mongkok Computer Centre is located right next to the Ladies Market.

---
Some Useful Links:
Oriental 188 Shopping Centre. Hong Kong's video game themed mall.
Popular shopping markets in Hong Kong
All the types of transportation in Hong Kong
Return From Hong Kong Computer Centre To The HomePage