Hong Kong Airport
The Hong Kong Airport is one of the biggest and most important International Airports in Asia. Major cities from all over the world have direct flights to Hong Kong. It has one of the largest passenger terminal buildings in the world. Even if you plan to visit a different city in Asia, there's a good chance you may have a connecting flight from Hong Kong.
The Hong Kong Airport is located on the island of Chek Lap Kok, in the New Territories. This is very far from downtown Hong Kong. To get from the Airport to downtown Hong Kong would take at least 45 minutes to 1 hour. So if you're only in Hong Kong for a few hours, I'd advise you not to go downtown because you'll spend most of your time travelling on a bus/taxi/MTR.
Before the Chek Lap Kok Airport was opened in 1998, the Hong Kong Airport was located in Kai Tak in Kowloon. This was very close to downtown Hong Kong, which made flying in and out of this airport very difficult due to all the surrounding buildings. There was even a height restriction for any buildings within a certain distance from the Kai Tak Airport. If you visit the Kai Tak region of Kowloon, you can see all the old shorter buildings that used to be next to the Airport. If you do visit Kai Tak, 2 nearby attractions include the Kowloon Walled City Park and the Wong Tai Sin Temple.
Since there are always lots of people waiting for flights, the Hong Kong Airport has made lots of things for people to do during their waiting time. Inside the Airport terminals you'll find tons of shopping. Anything from expensive brand name clothing and accessories to souvenirs, snacks and anything in between can be found inside these stores. Some people find there's so much shopping available at the Airport that they don't even need to go into downtown Hong Kong to find what they're looking for.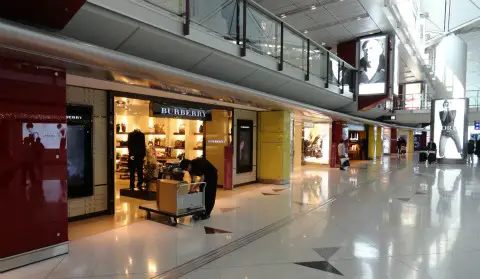 Brand name shops inside the Hong Kong International Airport
There are quite a few exhibitions at the Hong Kong Airport for travellers to take a look at if they have some time between flights. There's lots of interesting information on the topics of these exhibitions. These exhibitions include:
– The Art of Chinese Opera
– Theatre Art of Chinese Opera
– Bits of Old Hong Kong
– Glimpses of Chinese Medicine
– Memories We Share – Hong Kong in the 1960s and 1970s
– Tea Through The Ages
Anyone interested in these exhibitions should visit an information booth at the Airport to find the locations of these exhibits.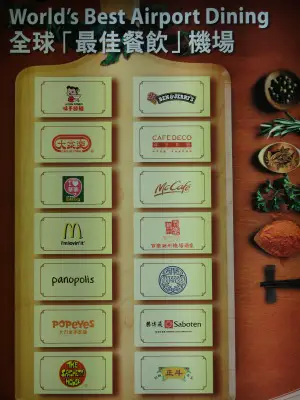 Another great feature of the Hong Kong Airport is the amount of food choices available in the food court. I'd say this Airport's food court is probably the best in the world, and my picture next to this paragraph is my proof. Where else can you find this many dining options at a single Airport food court? There are so many different varieties of food to choose from in the Hong Kong International Airport food court, and the prices are really good too! If you can't find anything you like to eat in this Airport, you just don't like eating at all.
&nbsp&nbsp&nbsp&nbspRestaurants at the Hong Kong Airport
With all these options at the food court, the eating area is very big to accommodate the large number of people always in the Airport. Even though this eating area is so big, you may have trouble finding an empty table to eat your meal at. There were a few times I had to wait next to somebody getting ready to leave just so I can get a table to sit down at. It really does get that busy. So if you're travelling with someone else, I'd recommend one of you stand in line and order and one of you look for a table. It may take a long time to find an empty spot to sit, so best to plan ahead.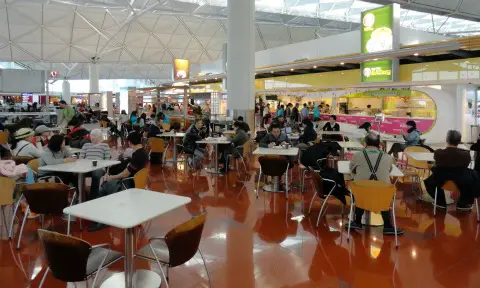 The busy food court inside the Hong Kong Airport
There are lots of nearby attractions, activities and shopping found close to the Hong Kong International Airport. These attractions and activities include the SkyCity Nine Eagles Golf Course (located close to the Marriott SkyCity Hotel) and AsiaWorld Expo. If you take a taxi or bus to Tung Chung MTR Station (takes only 5-10 minutes), Ngong Ping 360, Po Lin Monastery, and the Tian Tan Buddha are easily accessible from here. You can also take the MTR from Tung Chung station to Sunny Bay station (one station away from Tung Chung) and you'll be at the interchange MTR Station for Hong Kong Disneyland.
You can also find great shopping at the Citygate Outlets, located at the Tung Chung MTR Station as well. A 5-10 minute taxi or bus ride from the Airport is the perfect spot for an outlet mall like Citygate Outlets.
If you need somewhere to stay for the night, you have a few options for hotels. The Regal Airport Hotel is attached directly to the Hong Kong Airport. You can also take the MTR from the Airport station to the AsiaWorld Expo station which is only 1 stop away. Here you'll find the Marriott SkyCity Hotel. If you take a bus or taxi to the Tung Chung MTR station, which is only 5-10 minutes away from the Airport, you can stay at the Novotel Citygate Hong Kong Hotel. The Novotel Citygate Hotel is built into the same building as the Citygate Outlets, so you can easily get some shopping done while you stay at this hotel.
My recommendation would be to stay at the Novotel Citygate Hotel because there's good shopping and attractions within walking distance of the hotel. This way you can still experience Hong Kong while not being at the Airport, but still be close enough to the Airport to get back in only a few minutes.
There are a few airlines which originated from Hong Kong. The most famous Hong Kong based airline is Cathay Pacific. Cathay Pacific has flights that go from Hong Kong to many major cities all around the world. Cathay Pacific's direct flight from Hong Kong to New York is one of the longest non-stop flights in the world. A smaller airline, called Dragonair, is Cathay Pacific's regional airline which is used for flights to destinations all around Asia.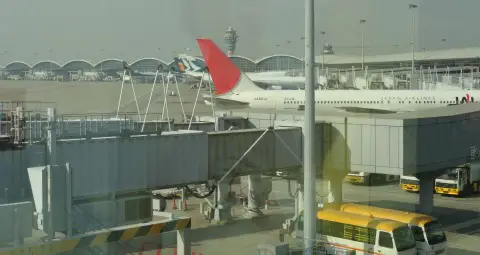 The flights on Cathay Pacific are more expensive than your average price for airfare, but the extra money you pay for the flight is definitely worth it. The flights are more comfortable, you're served better food (like Haagen-Dazs ice cream!), and most things you would normally pay for are complimentary. Each seat has its own TV with lots of new movies and TV shows preloaded for all passengers to watch as they like. Cathay Pacific is also one of the only airlines who still allow 2 checked bags at no additional charge. For those people who only understand Chinese (Mandarin or Cantonese), everything on the airplane is written in Chinese as well as English. The flight attendants can speak Mandarin, Cantonese, and English.
Some Useful Links:
Hong Kong International Airport official website
Citygate Outlets. Hong Kong's only outlet shopping mall.
Po Lin Monastery. Temple with the giant bronze Buddha statue.
A map of Hong Kong. With information on each region.
All the types of Transportation in Hong Kong