Ladies Market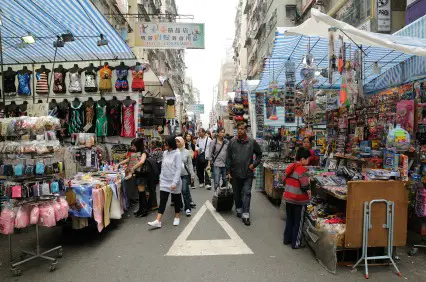 Ladies market is one of Hong Kong's most popular shopping street markets. It's also known by the name "Women's Street". But don't be turned off by the name of this market. Ladies will find all kinds of women's fashion, hand bags and cosmetics here, but there are lots of other items sold here that will interest men as well.
In the Ladies Market you'll find tons of small shopping stalls connected to one another wherein all types of goods are available. Here you can find all sorts of discounted shirts, jeans, shoes, travel goods, a wide range of bags, accessories, toys, and electronics. This market is a must-visit destination for anyone looking to buy souvenirs. For fashion enthusiasts, it's definitely a place not to be overlooked.

Prices here are not set in stone. You can bargain with the shop owners for a better price on pretty much anything.
The Ladies Market can be found on Tung Choi Street, the very heart of the Mongkok District in Kowloon. This section of Mongkok is known as Hong Kong's most inhabited area. It is also known as the most densely populated spot in the world.
A word of caution. Since Mongkok is so highly populated, there's a good chance you'll be walking through large crowds of people. Make sure to keep an eye on your belongings at all times as it's easy for pickpockets to take your things in large crowds of people. Also, in 2009 and 2010 Mongkok was the spot where arsons threw plastic bottles full of acid into big crowds of people. There are now cameras put up to try to stop this from happening again.
There are several ways to get to the Ladies Market. From Hong Kong Island you can take the Star Ferry to Tsim Sha Tsui. Walk to the Tsim Sha Tsui MTR station and take Tuen Wan line en route to Tuen Wan until you reach the Mongkok MTR station. From here it's just a short walk from the E2 exit to Tung Choi Street. Make sure not to mix up the Mongkok MTR station with the Mong Kok East MTR station.
While I was in the Ladies Market back in 2010 I bought some original t-shirts that I would never find back home, an iPhone Bluetooth headset and a few other souvenirs. With a little bit of bargaining I go these things for cheaper than I could get them in a mall. It seemed like every stall I went to had iPod and iPhone accessories like cases and screen protectors. It's a great place to pick these things up since they will most likely have the specific case you're looking for and the price is very reasonable.
A lot of the shop owners speak English, but you may find some that don't. If you have questions about what you're buying it'd be best to try another stall. But something like a language barrier won't stop someone from making a sale. Numbers are universal in every language and most of them will show you the price on a calculator or write it down for you.
Want more? In case the "Ladies Market" could not fulfill your shopping desires, there are quite a few other markets nearby. Located at Fa Yuen Street, you can find the Street Market and Sport Shoes Street. Sport Shoes Street is a place for those interested in the most-up-to-date sport shoes. It's open from 11am until 9:30pm.
For those who are fond of flowers, follow the street signs to Sai Yee Street to find the Flower Market which is open from 7am until 7pm. Gardening accessories can also be found in the market.
If you keep walking north on Tung Choi Street you'll eventually reach the Goldfish Market. Also close by is the Yuen Po Street Bird Garden. Anyone looking for computer parts and electronics can visit the nearby Mongkok Computer Centre.
With so much shopping available in one small spot, only a few find themselves unsatisfied after leaving the "Ladies Market". So make the best out of it!
The Ladies Market is open from noon until 11:30pm daily.