Goldfish Market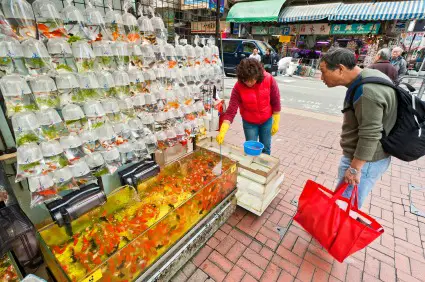 For aquarists vacationing in Hong Kong, the Goldfish Market is a must-see destination. Even though this Market is located on Tung Choi Street, between Prince Edward Road and Mong Kok Road, you will often hear Tung Choi Street referred to as "Goldfish Street". This is just a reflection of the beloved status this street has earned among both natives to Hong Kong and tourists.
The Goldfish Market is a unique shopping market as well as an attraction no tourist should miss. You will be absolutely stunned by the huge variety of fish and unusual pets on display. Getting here is easy, as it is just a few steps away from some very fine 5 star hotels including Langham Place and the Royal Plaza Hotel Hong Kong. If you are staying in another part of the city, you can get to "Goldfish Street" via the MTR. The nearest station is the Prince Edward MTR Station.

When you step into the Goldfish Market you'll see every kind of fish you could imagine on display. Most are already in plastic bags ready for you to take home and add to your tank. Many very experienced aquarists love shopping here to find rare fish species that they would never find elsewhere. The prices of fish at the Goldfish Market are quite cheap as well.
Many Hong Kong natives love visiting the Goldfish Market because goldfish are well-known for bringing good luck. Local aquarists love to spend hours perusing the many types of ornamental fish available. In addition to lots of beautiful types of goldfish and other fresh water fish, aquarium enthusiasts can also choose from salt water fish and specialty aquatics such as sea horses, and jelly fish.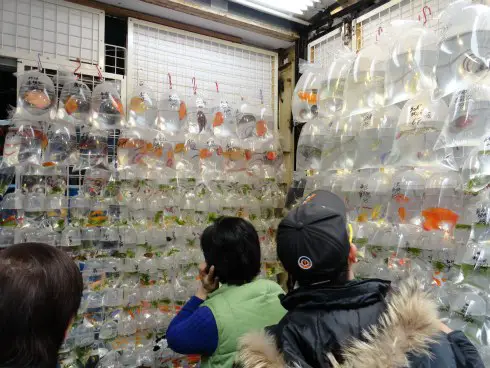 Browsing some fish for sale
Besides goldfish, you can also find some land animals such as Brazilian tortoises and semi-aquatic animals such as water turtles and crabs. There are Aquariums and pet stores along Goldfish Street as well. Inside you can find other animals such as cats, small dogs, rabbits, hamsters, and other unique reptiles for sale. One thing is certain, if you're looking for a beautiful and unusual pet, this is definitely the market to visit.
In addition to pets and fish, you can find all sorts of housing for pets here as well. Some of these items include small fishbowls and huge aquariums for both fresh water and salt water fish. They also provide all of the accessories you may need. All sorts of fish foods are offered, as well as tank decorations such as aquatic plants, coral, and aquarium ornaments.
There are a few things to think about before you make a purchase at any store at the Goldfish Market. First of all you'll want to shop around before buying anything. Prices can vary quite a bit depending on the store.
Secondly, when buying any electronic device in Hong Kong, you'll want to make sure the device has the same wall plug in your home country. You may have to buy an electric plug converter to change the size of the wall plug and the voltage to the same type as the one you have at home. So factor the price of a voltage/plug converter into the price of a heater, filter, lamp, or any other device that requires electricity to function. You may find that your item comes to the same price as what you'd pay at home for it after you buy a converter.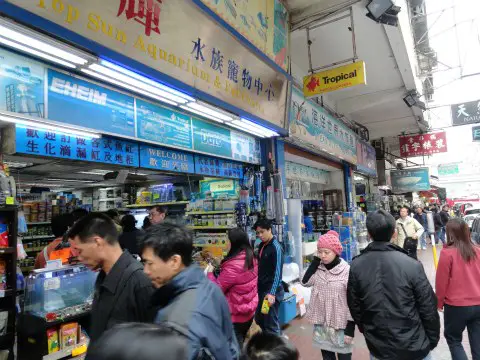 Looking down "Goldfish Street"
For a real exciting spectacle, make your way to the Goldfish Market really early in the morning. Between 4:00 am and 5:00 am an auction is held for all kinds of different fish. People can pick up large quantities of sea creatures for very cheap before the sun even comes up. This is how some stores on Goldfish Street aquire their inventory for the day. If you're interested in attending the fish auction, just know that by 6:00am-7:00am the auction is already over. So arrive early.
I have 2 red eared slider turtles at home. So when I went to the Goldfish Market I was very interested in all the turtles and fish for sale. I found some accessories for my turtles at almost half the price it would cost me for the same item in a store at home. If you have any pets at home, it's worthwhile to walk down the Goldfish Street and see if you can pick up a thing or two for your pet. You never know what you may find!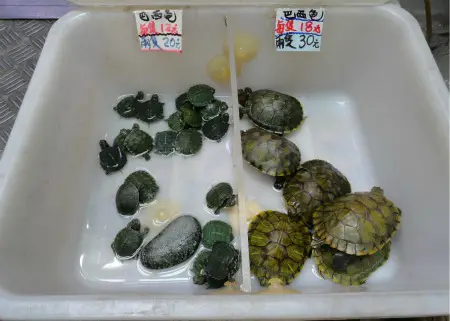 Yes, those baby turtles really are that cheap!
For those who are fond of flowers, you can find the Flower Market on Sai Yee Street which is open from 7am until 7pm. Gardening accessories can also be found in the Flower Market.
If you keep walking south on Tung Choi Street you'll eventually reach the Ladies Market. Also close by is the Yuen Po Street Bird Garden. Anyone looking for computer parts and electronics can visit the nearby Mongkok Computer Centre.
For tourists and Hong Kong residents, the Goldfish Market offers a day of amazement and fun! Stores are open every day from 10:30 in the morning until 10 at night.