Ma Wan Park – Noah's Ark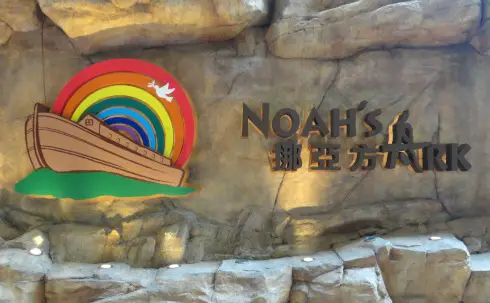 Ma Wan Park – Noah's Ark is a park found on Ma Wan Island in the New Territories. It's the only park in the world that has a full sized replica of Noah's Ark. Don't get this park confused with an amusement park. This is a park with exhibitions and other activities. Noah's Ark has no rides or carnival games where you can win prizes.
Please note that the exhibitions at Ma Wan Park – Noah's Ark contain religious content. If you don't agree with any of the religious views or content shared at the park, it's best to not visit the park at all.
Inside the park is a variety of different exhibitions with the theme of Noah's Ark. The main attractions of Ma Wan Park – Noah's Ark include:
– Ark Expo
– Ark Garden
– Ark Life Education House
– Noah's Adventureland
– Treasure House- Special Exhibitions
If you plan to visit Ma Wan Park – Noah's Ark, I recommend you visit the souvenir shops at the Avenue of the Stars first. Inside one of the souvenir shops at the Avenue of the Stars I found tickets for sale for Noah's Ark and Hong Kong Disneyland at discounted prices. You can save a bit of money by buying your tickets here for either attraction.

The Ark Expo is found inside the full size replica of Noah's Ark. It consists of a gallery of information about the discovery of the real Noah's Ark, a small exhibition of animals, and a bunch of rooms with screens that display different videos about Noah's Ark in 4D. These videos teach viewers all about the story of Noah's Ark and what happened afterwards. Videos have Cantonese audio with English and Chinese subtitles. After viewing all of the videos in the Ark Expo, a room behind the screens will light up and reveal recreations of special religious artifacts. Afterwards you can walk around and take pictures with other items inside the expo. You can even sit at a table with statues of the last supper.
The Ark Garden is the most well known part of Ma Wan Park – Noah's Ark. It consists of a garden with all different types of animal statues. It's here that you can witness the world's only full size replica of Noah's Ark for yourself. Some of the hand sculpted animals inside the garden include Giraffes, Elephants, Monkeys, Lions, Hawks, Zebras, Rabbits, and many more.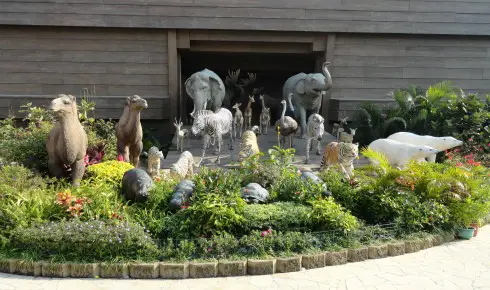 Hand sculpted animals coming out of the replica of Noah's Ark
The story of Noah's Ark states that 2 of each animal on Earth, 1 male and 1 female, were put inside the Ark so that the world could be repopulated after a major flood. All of these animals are on display as hand sculpted statues in the Ark Garden. Make sure to look around the Ark Garden diligently as some of the animals are hidden in trees, bushes, and other spots you may miss along the way.
The Ark Life Education House is an area of the park where you can learn about different aspects of life. You're encouraged to reflect on memories from your past and think about your future through a variety of activities.
Noah's Adventureland is an area of Ma Wan Park – Noah's Ark where you can play on different sets of courses made out of rope. There are rope courses aimed at people of all ages.
Treasure House is a section of the park with lots of different activities aimed mainly toward kids. 15 different "discovery galleries" are found inside the Treasure House, all with different activities and themes.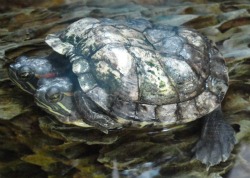 From time to time Ma Wan Park – Noah's Ark runs different exhibitions called Special Exhibitions. When I was at the park the special exhibition was about all different kinds of two headed turtles. They had at least 10 different tanks and each tank had a different type of two headed turtle inside. I never knew two headed turtles were so common until I saw this exhibition.
&nbsp&nbsp&nbspA two headed Turtle on display
Before you go to Ma Wan Park – Noah's Ark you should take a look at all the different types of admission tickets they have. There are 3 different types of tickets, all at different prices. The cheapest ticket gives you access to the least amount of areas at the park, while the most expensive ticket gives you access to everything available at the park.
I found it very confusing for customers to have to decide between 3 different types of tickets. It made lines at the ticket booths longer than they should be as people try to decide what they want to see and what ticket to buy. Most theme parks I've been to have a general admission price and it gives you access to everything in the park. Things were more complicated here because someone had to scan your ticket to see if you're allowed access to different exhibitions. So I had to keep my ticket with me at all times so it could be scanned at the entrance to each exhibition.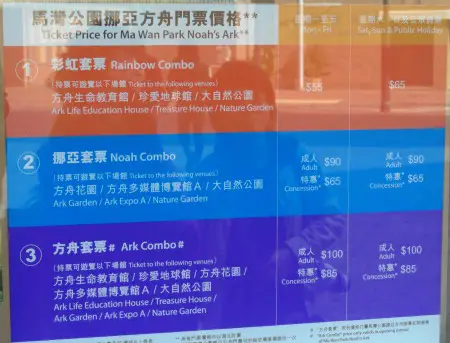 All the tickets to choose from at Ma Wan Park – Noah's Ark
Ma Wan Park – Noah's Ark has a gift shop where you can buy all kinds of souvenirs and interesting items with the theme of Noah's Ark. Most of the items are animal toys or something with the Ma Wan Park – Noah's Ark logo on it.
If your plans in Hong Kong include visiting Ma Wan Island, you may want to consider staying at Noah's Resort. Noah's Resort is a hotel found inside Ma Wan Park – Noah's Ark. Noah's Resort offers rooms with either twin or double beds. There are also hostel rooms available for groups of 4 to 8 people. These hostel rooms have their own private showers. Noah's Resort also has a lounge, a nice beach close by, and a roof garden.
There are a few options available for anyone who wants to dine somewhere on Ma Wan Island. Ma Wan Park – Noah's Ark has a restaurant on site called the Harvest Restaurant. You can enjoy all kinds of international cuisine at the waterfront of the Island. Beautiful views of the Tsing Ma Bridge and the Ting Kau Bridge can be seen from your seats in the restaurant as you dine. You can also find other spots to eat in the residential areas of Ma Wan Island. A lot of these restaurants are located on the waterfront and have great views as well.
Noah's Ark and the Ma Wan Park Nature Garden are located right next to one another and have a separate admission spot for each park. If you have time after you finish walking through Ma Wan Park – Noah's Ark, you could easily wander through the Nature Garden if you want to spend more time on the Island.
Ma Wan Park Nature Garden found next to Noah's Ark
You may have a difficult time getting to Ma Wan Island because this island has been declared as a "Green Island." This means that anyone who wants to visit or live on Ma Wan Island has to partake in the environmentally friendly lifestyle of this island. There is no MTR station on Ma Wan Island and cars are not allowed on the island at all. The only way to get to Ma Wan Island is by ferry, bus, or taxi. Access to Ma Wan Island by taxi is limited to red taxis only and there are limited hours that taxis can drive on the island.
If someone who lives on Ma Wan Island owns a car, they have to find somewhere else in Hong Kong to park their car. This results in any resident of Ma Wan Island parking their car somewhere else and then taking a bus, taxi, or ferry to Ma Wan Island. If someone wants to use their car they would have to take a bus, taxi, or ferry off Ma Wan Island and then get their car. Then when they're done driving the car they have to park their car back where they picked it up and take a ferry, taxi, or bus back to Ma Wan Island. Seems very inconvenient to me.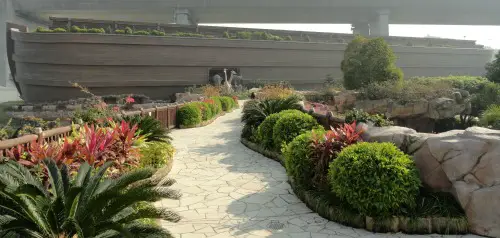 The full size replica of Noah's Ark
Ma Wan Park – Noah's Ark for me was very disappointing. I was expecting more from a park with such a unique theme and flashy advertisements. The entrance tickets were very confusing and much cheaper than the other amusement parks in Hong Kong (I guess you get what you pay for). It's very difficult and inconvenient to get to Ma Wan Island because of all the limitations of travel on the Island. Once you see the Ark Garden and visit the exhibitions inside the full sized replica of Noah's Ark there really isn't much else worth seeing. I was ready to leave after being there for about an hour and a half. But since I made such an effort to get to the park, spent quite a bit of money on admission and the ferry to get here, I felt I needed to get my money's worth by staying and seeing anything else that may be interesting.
I recommend you save your money and visit Hong Kong Disneyland or Ocean Park instead. You'll have a much better time there anyways. And it's not such a chore to get there.