Times Square Hong Kong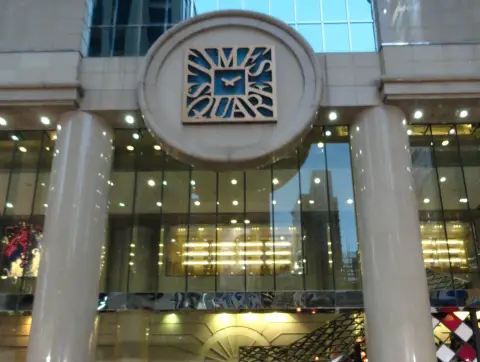 Times Square Hong Kong is a giant shopping centre found in Causeway Bay. It's a very popular mall due to the wide variety of different stores found inside. You'll recognize it right away by the unique Times Square clock built into the building at one of the entrances.
With the limited space available in Hong Kong, Times Square was built vertically to make the mall bigger. You'll find 16 floors filled with shopping and dining alike.
Times Square Hong Kong is a mall that has a little something for everyone. Inside the mall you'll find such stores as: City'Super, Marks and Spencer, Zara, Calvin Klein, Armani Exchange, French Connection, Lane Crawford, Adidas, Nike, K Swiss, Burberry, Coach, Gucci, Broadway and Fortress. There's a great mix of everything at Times Square.

There used to be a UA Cinema in Times Square Hong Kong, but unfortunately it was closed down in January 2012.
On New Years Eve, thousands of people gather at Times Square Hong Kong to count down to the New Year. There's a big celebration with music, performers, and announcers. The party finishes with a countdown to the New Year, similar to the Times Square in New York. Descending numbers are lit up on the Times Square building, in sequence to count down the last few seconds of the current year with attendees. This event is broadcast on TV every year. If you have access to a Chinese TV channel, you may be able to see the Times Square countdown in Hong Kong broadcast on TV.
Times Square has many exhibitions, promotions, and decorations on display throughout the year. At Christmas time in 2011 they had some interesting Christmas decorations. They also had a Barbie display inside the mall which included hundreds of Barbie dolls and a life size Barbie doll house.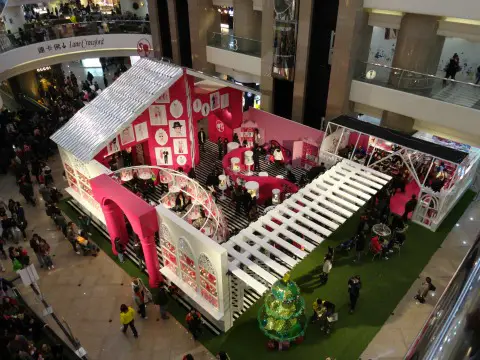 A life sized Barbie Doll House on display in the Times Square mall
Times Square has fairly big hallways and is kept very clean. Even the washrooms are nice and clean. The mall is busy and filled with people most of the time. It's in a great location with stores that appeal to a large audience, so it's easy to see why so many people go shopping here.
Nearby attractions include Happy Valley Racecourse and the Golden Bauhinia Square.
Causeway Bay is known as a very popular District for shoppers. Once you're done shopping at Times Square, you can find more shopping on the streets and inside nearby shopping centres such as WTC more and SOGO. Hysan Place, a new mall that just opened in August 2012, is located close by as well.
Times Square is directly connected to the Causeway Bay MTR station, making it the most convenient way to get to the mall. The Wan Chai District, known for its electronics stores, is only 1 MTR station away from Causeway Bay.
Some Useful Links:
The Official Times Square Hong Kong website
More Shopping Malls in Hong Kong
All the types of transportation in Hong Kong
1 Matheson Street, Causeway Bay, Hong Kong