SOGO Hong Kong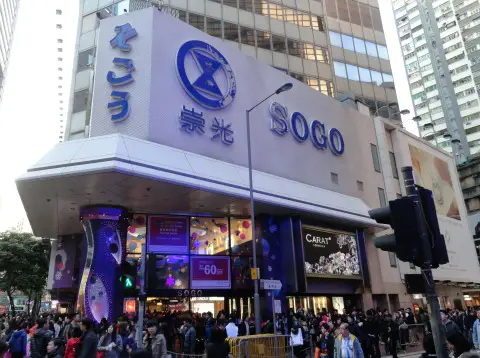 SOGO Hong Kong is a large, Japanese department store located in Hong Kong. You can find this shopping centre in Causeway Bay on Hong Kong Island, as well as in Tsim Sha Tsui, Kowloon.
Most of the items sold here are Japanese or have a unique Japanese style to them. I found it interesting that if you convert the price of items sold here from Hong Kong Dollars to Japanese Yen, the price is cheaper in Hong Kong than if you were to visit Japan and buy the same item. Even things that were made in Japan may be cheaper in Hong Kong!
The SOGO in Causeway Bay spans 19 floors, with 12 floors for shopping, 6 floors for the SOGO Club, and 1 floor in the basement for restaurants and a supermarket. The SOGO in Tsim Sha Tsui has the exact opposite layout. It consists of 2 floors and takes up much more horizontal space to accommodate all the same stores as the one in Causeway Bay.

Inside SOGO Hong Kong you'll find a wide variety of stores selling anything from men/ladies fashion to home appliances, stationary, travel items, toys, Chinese costumes and handbags. Each floor has different types of products for sale. So if you decide to visit SOGO, make sure to get a map that displays what's sold on each floor.
The food court contains all different kinds of Japanese food. You'll find fast food kiosks in the food court serving ramen, yakisoba, udon, rice dons, sushi, and other Japanese food. The restaurants inside the mall are all Japanese restaurants as well. It's the perfect place for anyone who enjoys Japanese food.
Just like in any other department store, you pay for your items at specific cash register locations on each floor. Each store in SOGO Hong Kong doesn't have their own cash register.
You can't leave one floor of SOGO Hong Kong without paying for any items you intend to buy from that floor. So if you want to buy something on the 4th and 8th floor, you'll have to make a purchase on the 4th floor and make another purchase on the 8th floor.
If you go shopping at the SOGO in Causeway Bay, you should visit the other major shopping centres in Causeway Bay. These shopping malls are Times Square Hong Kong and WTC more. Both malls are only a few minutes walking distance away. There's also a new mall in Causeway Bay called Hysan Place that's located right across the street from SOGO. Hysan Place just recently opened in August 2012.
You can also find more shopping on the streets of Causeway Bay. One of the most popular shops on the streets of Causeway Bay, found close to SOGO, includes a giant Forever 21 store.
The SOGO in Tsim Sha Tsui is located very close to more great shopping and many tourist attractions. You can easily walk to 1881 Heritage and Harbour City in a matter of minutes for more shopping.
Nearby attractions include the Victoria Harbour, the Avenue of the Stars, Star Ferry, Hong Kong Space Museum, Hong Kong Museum of Art, Hong Kong Cultural Centre, A Symphony of Lights, and the Tsim Sha Tsui Clock Tower.
SOGO Hong Kong is conveniently located at the Causeway Bay MTR station in Causeway Bay. The one in Tsim Sha Tsui is located at the East Tsim Sha Tsui MTR station in Tsim Sha Tsui.
Some Useful Links:
The Official SOGO Causeway Bay Website
The Official SOGO Tsim Sha Tsui Website
More Shopping Malls in Hong Kong
All the types of transportation in Hong Kong
SOGO Causeway Bay, 555 Hennessey Road, Hong Kong
SOGO Tsim Sha Tsui, 12 Salisbury Road, Tsim Sha Tsui, Kowloon
Return From SOGO Hong Kong To The HomePage