298 Computer Zone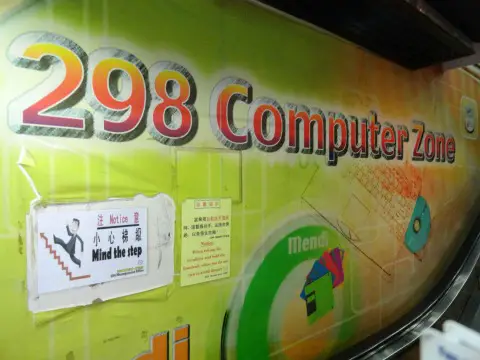 The 298 Computer Zone is a Hong Kong Computer Centre found in Wan Chai, on Hong Kong Island. This shopping centre spans many floors and sells computers, computer parts, accessories, peripherals, and anything else to do with computers. You can also find popular computer games here like Diablo 3 and World of Warcarft.
A shopping centre like this one can be a little intimidating at first. With so many shops crowded into a small area, you may not know where to begin. It's a good idea to know what you want before you get there. This makes things a little easier because you'll know which shops to go into, saving you from being in the mall all day.
Items sold at 298 Computer Zone are usually cheaper than what you'll find in bigger electronics stores in Hong Kong, such as Broadway and Fortress. You can also try bargaining with the shop owners here. Items sold at 298 Computer Zone don't come with a warranty, and some of the shops may only accept cash.
No matter what you're shopping for, I recommend looking up how much that item costs in your home country (if it's available in a store at home) and converting that number to Hong Kong Dollars. This will give you a baseline price for your item which you can compare to prices in the mall. Then you'll know if you're getting a deal on the computer product when you see the price in Hong Kong Dollars.

You can also bring a calculator or smart phone with you to convert the prices from Hong Kong Dollars to a currency you're more familiar with. $600 HKD may mean nothing to you, but $77 USD may give you a better perspective on if you're getting a good deal or not.
If you have time, it's worthwhile to shop around before buying something. You may be able to save a bit of money by looking in more than one shop. Sometimes vendors close to the entrance will charge a little more than a vendor further into the mall.
Although the 298 Computer Zone sells mainly computer products, you may find a shop or two inside the mall that sells other items like video games, video game consoles, and peripherals. When I visited the 298 Computer Zone I was able to find 2 video game peripherals that I couldn't find anywhere else in Hong Kong. You'd be suprised at what you can find for sale in shops inside smaller malls like this one.
The hallways in this mall are much narrower than in the bigger malls in Hong Kong. This makes it very easy for the mall to get crowded. Make sure to keep an eye on your belongings when going through crowds of people. You don't want to lose something important.
Something I found useful in the 298 Computer Zone was the foot marks on the floor. These foot marks were a suggested path for shoppers to walk so that they could see everything on each floor. They also provided a useful way for shoppers to find the exit. If you get lost in the mall, just follow the markings on the floor and it'll lead you to escalators or the mall exit.
The 298 Computer Zone is located in between the Wan Chai and Causeway Bay MTR stations. There isn't really an easy way to get to the mall by MTR because these two MTR stations are quite far away. If you want to ride the MTR to get here, get off at Wan Chai MTR station and walk down Hennessey Road until you reach 298 Hennessey Road. You'll have to walk quite far to get there though.
The best way to get to 298 Computer Zone is by bus. Look for a bus route that stops at either 298 Hennessey Road (at Kwong Sang Hong Building) or Wan Chai Road and Heard Street.
Another option is to take the Tram to the C C Wu Building stop, and walk to address 298 on Hennessey Road.
If this mall doesn't have what you're looking for, give Wan Chai Computer Centre a try. Wan Chai Computer Centre is another computer themed shopping centre close by. It's very easy to find since both malls are located on the same street (Hennessy Road). You might find what you're looking for there.
Right behind the 298 Computer Zone is the Oriental 188 Shopping Centre. The Oriental 188 Shopping Centre is a mall that mainly sells video games. This is the perfect spot for anyone interested in both computers and video games as you can buy all these electronic devices without going very far.
Some Useful Links:
Information on other Computer Malls in Hong Kong
Oriental 188 Shopping Centre – A mall dedicated to video games.
All forms of transportation in Hong Kong
298 Hennessy Road, Wan Chai, Hong Kong