Wan Chai Computer Centre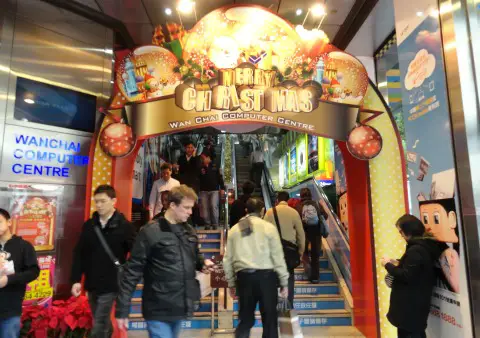 The Wan Chai Computer Centre is the most popular shopping centre on Hong Kong Island for computers, computer accessories, peripherals, software, and cameras. It's located close to the Wan Chai MTR station, making it very convenient for anyone to get there.
Inside you'll find anything and everything to do with computers. If you need a specific part for your computer, there's a good chance it can be found here.
Although Wan Chai Computer Centre sells mainly computer products, it's common to see a couple shops in the mall selling video games, video game consoles, and peripherals. So if you're looking for a game or two, you may find it here.
It's also very common for stores inside this mall to sell electronic devices, batteries, memory cards, etc. The prices for these items are usually cheaper than what you'd find them for in the big name electronics stores in Hong Kong such as Broadway and Fortress.
A shopping centre like this one can be a little intimidating at first. With so many shops crowded into a small area, you may not know where to begin. It's a good idea to know what you want before you get there. This makes things a little easier because you'll know which shops to go into, saving you from being in the mall all day. And trust me, it can happen to anyone.

If you have time, it's worthwhile to shop around before buying something. You may be able to save a bit of money by looking in more than one shop. Sometimes vendors close to the entrance will charge a little more than a vendor further into the mall.
The hallways in the Wan Chai Computer Centre are quite small and can get very crowded quite easily. Make sure to keep an eye on your belongings at all times as it's easy for something to be stolen from you in a crowded area.
If you buy something from a shop inside the Wan Chai Computer Centre, make sure that you know these items won't come with a warranty. Sometimes shops will carry the item made by the official manufacturer and a cheaper version of the same item, made by someone else. If you plan on buying the cheaper version, make sure you try it before you buy it. You don't want to get home and realize that the item you bought doesn't work with what you have. In this situation there isn't much you can do unless you can go back to the store that same day and exchange it. But if you buy the official licensed product, you can contact the manufacturer and possibly get your item fixed or replaced.
This happened with a battery I bought here for my Sony camera. They had the official Sony battery, and a cheaper version of the battery made by some other company. I tried both batteries and they both worked fine in my camera, so I bought the cheaper battery. A year later I bought a newer Sony camera that takes the same battery as my older camera. The newer Sony camera wouldn't turn on with the cheaper battery, but it worked fine with my other 2 official Sony camera batteries. So I can only use the cheaper battery in my older camera.
If you can't find what you're looking for here, walk a few blocks down Hennessy Road and you'll find the 298 Computer Zone, another Hong Kong Computer Centre. The Oriental 188 Shopping Centre is in the same building as the 298 Computer Zone as well.
Some Useful Links:
Information on more Computer Malls in Hong Kong
Oriental 188 Shopping Centre – A mall dedicated to video games.
All forms of transportation in Hong Kong
130-138 Hennessy Road, Wan Chai, Hong Kong Island