Flower Market Hong Kong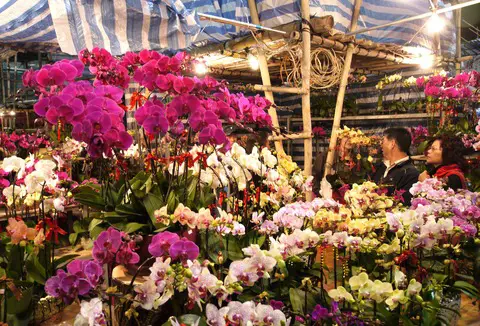 The Hong Kong Flower Market is a unique specialty shopping market in Mongkok, Kowloon. Lots of vendors and hawkers are squeezed into this small street where almost any kind of flower you can think of is sold. This is definitely a florist's paradise.
Located just one block north of Prince Edward Road West, Mongkok, on a street named "Flower Market Road," this market is filled with shops selling all kinds of flowers for any kind of occasion you can think of.
Even though the Flower Market in Hong Kong is not very large, it offers a greater variety of flowers and better value than any other source of flowers on earth. You can visit from early in the morning until early evening. Business hours are 7 a.m. to 7:30 p.m.

When you visit the Flower Market, you may feel a bit overwhelmed by the riot of color and the gorgeous scents that greet you. Here you will find the freshest, most beautiful and most aromatic array of flowers you have ever encountered. Traditional Chinese flowers such as chrysanthemums, poinsettia and narcissus mingle with exotic Bird of Paradise and elegant orchids. Of course you will find armloads of beautiful, sweet-scented roses of every hue.
The flowers you will find in the Flower Market hail from all over the world, and you can purchase large quantities wholesale if you wish. This is perfect for people planning a wedding or other special occasion in Hong Kong. Of course, you can also buy a simple bouquet for a loved one. You'll find the prices of flowers are far lower than you would ever see in any florist shop.
A lot of the flowers sold here have special meanings to the Chinese. For example the Chrysanthemum is known as a good flower to give to someone as a gift because it will bring good luck to their home. The Narcissus is the perfect flower for someone looking for good luck and career improvement.
Be careful of which flower arrangements you buy at the market because certain flowers, like the white iris are associated with death in Chinese culture. Some shops may only sell flowers for funerals. Make sure to ask the seller before you buy.
A few fashionable hotels are conveniently located nearby. Some of these hotels include the Royal Plaza Hotel, and Langham Place Hong Kong.
There is an MTR station conveniently located a few blocks away on Prince Edward Road called the Prince Edward Station. If you go south you'll find the Mongkok East MTR Station which is fairly close by as well.
Nearby attractions include the Yuen Po Street Bird Garden and Mongkok Stadium. If you go south into Tsimshatsui you can see all the attractions found at the Victoria Harbour.
Once you're done shopping for flowers, you can walk to the other unique shopping markets found nearby. These shopping markets include the Ladies' Market, Goldfish Market, and Mongkok Computer Centre. There's quite a variety of shopping choices in Mongkok. Everyone will find something to buy here.