Harbour City Hong Kong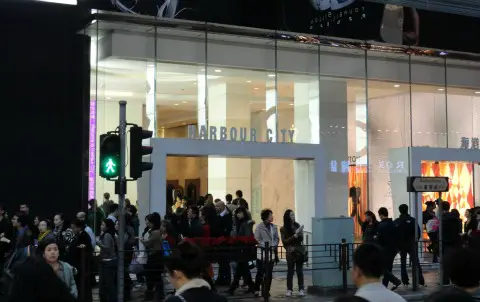 Harbour City Hong Kong is the biggest shopping and entertainment centre in Hong Kong. It's located on the west side oceanfront of the Victoria Harbour in Tsim Sha Tsui, Kowloon.
Harbour city Hong Kong is so big that it's separated into four different areas. These four areas are:
Gateway Arcade– This section contains stores focused on fashion and designer brands.
Ocean Centre – Offers many high end expensive brand name stores like: Louis Vuitton, Burberry, Valentino, etc. Ocean Centre also has a floor with several electronics stores.
Ocean Terminal – Ocean terminal has kid's stores, sports stores, and a Lane Crawford and LCX. A lot of the kid's stores are brand name stores for children.<br>
Marco Polo Hotel Hong Kong – The Marco Polo Hotel Hong Kong is part of Harbour City. This hotel is the perfect accommodation for those wanting to spend a lot of time at Harbour City, and the surrounding busy streets of Tsim Sha Tsui.
Inside Harbour City Hong Kong you'll also find 2 Cinemas! There's
one at each end of the mall. Cinemas in Hong Kong
show movies made in Hong Kong as well as
international movies. Movies from Hong Kong
are usually in Cantonese. International movies can either be dubbed in
Cantonese or shown in English with Chinese subtitles. Some popular
international movies debut in Hong Kong a week
or 2 earlier than in North America and other
parts of the world. So you may be able to see a popular movie before all your
friends and family!
Harbour City boasts some very large stores inside
the mall. Some of these stores include the largest Toys "R" Us in Asia, and the largest Louis Vuitton store in the Asia
Pacific region.
There are all kinds of restaurants inside Harbour City.
There's a great variety of dining choices in the mall. Anything from Chinese
and Asian cuisine to Western style food are available inside.
Being the largest mall in Hong Kong,
Harbour City is obviously very spacious. Great
views of the Victoria
Harbour can be seen from
several points in the mall. Washrooms are kept clean and are quite easy to
find.
Harbour
City is part of the
bustling district of Tsim Sha Tsui. People come to this region of Hong Kong to do lots of shopping. The streets of Tsim Sha
Tsui are packed with shops, attractions, museums, and more shopping malls.
Some of the nearby shopping includes: 1881 Heritage, SOGO,
and Elements.
Nearby attractions include: The Star Ferry (Harbour City is located next to The Star Ferry
Pier), The Avenue of the Stars, Kowloon
Park, Victoria
Harbour, and A Symphony of Lights.
Anyone who plans to visit Tsim Sha Tsui should make
plans to go shopping at Harbour City Hong Kong. The mall is very big and
contains a wide variety of shops that will interest most people. And when
you're finished shopping here you can walk the streets of Tsim Sha Tsui to find
more shopping and attractions nearby.
3-27 Canton Road, Tsim Sha Tsui, Kowloon,
Hong Kong
Return From Harbour City Hong Kong To The HomePage
Buy the Hong Kong Trip Guide e-Book Today!