Yuen Po Street Bird Garden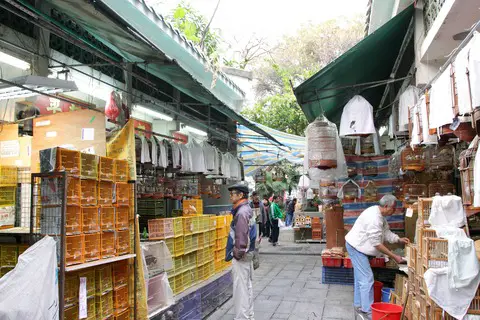 The Yuen Po Street Bird Garden, also known as the Hong Kong Bird Market, is a Chinese style garden containing all sorts of different kinds of birds. There are all kinds of birds for sale at the bird market found inside the bird garden. It's located on Yuen Po Street in Kowloon.
The Yuen Po Street Bird Garden used to be found on Hong Lok Street in Mongkok, Kowloon. Back then it used to be called "Bird Street Market." In 1997 the market was relocated to Yuen Po Street where a garden now accompanies the new Bird Market.
Walking around the Yuen Po Street Bird Garden, the first thing you'll probably notice are all of the bird cages hanging and sitting on the ground throughout the marketplace. Most of these bird cages are made out of bamboo. Inside these bird cages you'll see so many different types of exotic birds chirping and singing. It could sound like a beautiful melody to some, while others may find it to be a bit annoying.

Most of these birds inside cages at the marketplace are for sale. The shops at the bird market have all the accessories you'll ever need to buy to have a bird as a pet. You can find things like bird cages, bird food, food and water containers, and all sorts of pet bird accessories. Be aware that live bird food, like worms and crickets, is sold in the bird market. Shop owners and bird owners will often feed their pets live food inside the shops and even out on the street.
What makes this market interesting is seeing all of the elderly people walking around the Bird Garden with their pet birds. They regularly take their pet birds out for a walk, just like Westerners would with their dogs. Elderly people enjoy coming here with their birds. This gives them the opportunity to chat with friends and get outside for a few hours. Pet birds in Hong Kong get spoiled with all the nice things their owners buy them at the Bird Market.
Something else to consider when visiting this Bird Garden is the smell produced by all the birds at the market. The smell may be overwhelming for some people.
If you're travelling to and from Hong Kong by airplane (which most people do because of its location), it may be very difficult to bring a pet bird back home. So if you plan to buy something here, you'll most likely be limited to buying bird food and accessories.
For anyone interested in seeing more birds, you can visit the Edward Youde Aviary in Hong Kong Park. Here you can see lots of different birds on display in a caged section as well as an open area where birds can roam freely.
The Flower Market and Mongkok Stadium are located very close to the bird garden. Other nearby shopping markets include the Goldfish Market, Ladies Market, and Mongkok Computer Centre. These 3 markets are quite a long walk away from the Yuen Po Street Bird Garden, but you can get to any of those markets with a short taxi or bus ride.
The closest MTR station to the Yuen Po Street Bird Garden is the Mongkok East MTR Station. From Mongkok East Station, walk north toward Mongkok Stadium and you'll find the bird garden just east of the stadium.
The Royal Plaza Hotel Hong Kong is walking distance away from the Bird Garden. If you're looking to stay at a hotel close to this area (maybe a concert at Mongkok Stadium), give the Royal Plaza Hotel a look.
The Yuen Po Street Bird Garden is open daily from 7:00am to 8:00pm.