Langham Place Hong Kong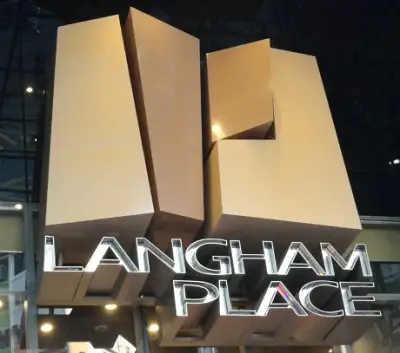 Langham Place Hong Kong is a 5 star luxury hotel located in Mongkok, Kowloon. It's the perfect hotel for anyone looking for a relaxing, luxurious stay, at a modern hotel with an interest in art and music. You'll also find tons of shopping within walking distance.
Langham Place Hong Kong spans 42 floors with a total of 665 rooms and suites. The rooms and suites on the higher floors have great views of Kowloon, Hong Kong Island and the Victoria Harbour.
Enjoy a great view of the city from the heated swimming pool on the rooftop of the hotel. You can even hear some music playing while you're swimming underwater. You can also visit the 24 hour fitness centre on site anytime you please. Relax at The Chuan Spa which uses Traditional Chinese Medicine for all of their spa treatments. Wifi is provided anywhere throughout the building.

If you feel like staying in for one night, Langham Place Hong Kong has several restaurants available inside the hotel for your dining convenience. Enjoy some exceptional Cantonese cuisine at Ming Court. Be sure to look around Ming Court as many replicas of Ming Dynasty pottery as well as paintings from some of the top Chinese artists are on display all around the restaurant. Visit The Place for a mixture of eastern and western dishes served a la carte or as a buffet for breakfast, lunch or dinner. Experience the Japanese Robatayaki style restaurant Tokoro for a unique take on Japanese food.

Have a few drinks at The Backyard lounge and finish with some pizza or a barbeque buffet. If you're up to the challenge, The Backyard has a deal where you pay a flat rate and you can have unlimited drinks and pizza for 3 hours. If you're looking for a unique bar, look no further than Portal – Work and Play. Portal keeps things fresh with live entertainment and a DJ that plays into the night.
Looking for somewhere to have an event, meeting or function? There are several rooms with great architecture available here at Langham Place that can accommodate any event or meeting you're planning.
Room amenities include a flat screen TV with a DVD player, wired and wireless broadband internet access, minibar, iHome iPod clock radio, in room mobile phone, coffee maker, 24 hour room service, and an in-room safe. If you need help with your computer or internet, there's IT support available on site.
Bathrooms are quite big and have a large, separate bath tub and shower. Exterior windows in each room and suite span the entire length of the floor to the ceiling, giving you the perfect view from your room.
Langham Place is an environmentally friendly hotel that uses less energy and water than the average hotel.

Langham Place sits in the perfect location for anyone who enjoys shopping. The hotel is connected to the Langham Place Shopping Mall, a big mall with 300 shops that have a little something for everyone. It's within walking distance of several shopping markets including Ladies' Market, Flower Market, Temple Street Night Market, Jade Market, Goldfish Market, and the Mongkok Computer Centre. With such a wide variety of shopping close by, this is a shopper's dream hotel.
The closest MTR station, Mongkok MTR Station, is conveniently connected to the hotel and is a short walk to get there. From this station it's very easy to get to any spot in the city, making this location very central and convenient. If you don't feel like walking to the nearby shopping markets, you can get on the MTR and travel one station north or south and get off to be closer to where you want to be.
Nearby attractions include the Victoria Harbour, Star Ferry, Avenue of the Stars, A Symphony of Lights, and the Yuen Po Street Bird Garden.
Stay at Langham Place Hong Kong for the luxury, art, history, music and the great location. If you can afford a 5 star hotel like this one, it's in a great location and well worth staying at.
Langham Place Hong Kong, 555 Shanghai Street, Mongkok, Kowloon